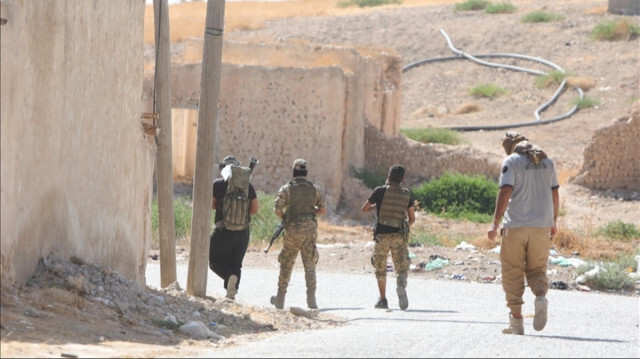 Forces of Arab tribes on Monday launched an operation against the YPG/PKK terror group in Syria's eastern province of Deir ez-Zor after a two-week lull, according to local sources.
Oppressed by the terrorist group, Arab tribes clashed with the YPG/PKK terrorists in the villages of Diban, al-Tayyana and al Muhammadiya, the sources said.
YPG/PKK dispatched many terrorists to the areas of the clashes and imposed a "curfew" on the Arab-predominant villages of Assabha, al-Ibrahiya, al-Busairiya, al-Shahil, al-Baghuz and Diban, the sources added.
The Arab tribes were able to clear about 33 villages of terrorists in the provinces of Deir ez-Zor, Raqqa, Al-Hasakah, and areas in Manbij and Aleppo during operations carried out from Aug. 27 to Sept. 13, 2023.
The tribal forces, however, later withdrew from the villages to prevent civilian casualties from YPG/PKK attacks and agreed to negotiate with the US forces who play a mediation role in the region.
The population of Deir ez-Zor, which the terror group occupied under the pretext of fighting Daesh/ISIS with the support of the US military, are Arabs.
The PKK/YPG is also forcibly recruiting Arabs and children in the regions it occupies, as documented by reports by the UN and human rights groups.
The terrorists generate income by selling oil to Damascus through smugglers, from seized oil wells in the region, despite US sanctions. While the PKK/YPG uses the income for its purposes, residents in the region are deprived of local services and much-needed aid.
2 months ago