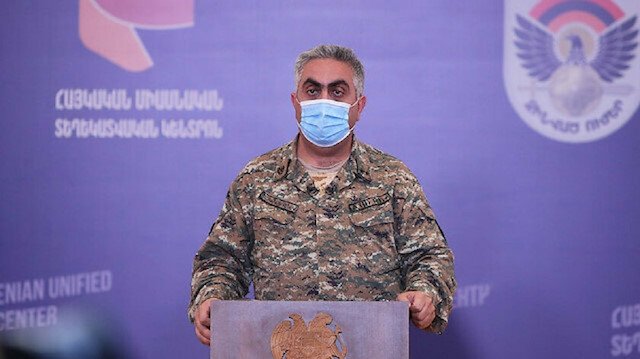 Months after Azerbaijan regained control over territories occupied by Armenia, Yerevan's humiliating defeat that sent shockwaves across the country continues to make headlines after former Defense Ministry spokesman Artsrun Hovhannisyan's sobering assessment about Turkey's role in the Karabakh conflict.
In a recent interview, Hovhannisyan admitted that his country's army was no match for Turkey's state-of-the-art drones, which have been game-changers in Syria and Libya, according to international reports.
Asked about Turkey's role in the Karabakh conflict, Hovhannisyan pointed that "Turkey's intervention was one of the reasons that Armenia lost the war."
Hovhannisyan also stressed that Armenia was facing a foe boasting forces that are "ten to twelve times bigger," ceding that "facing such a superpower is extremely difficult."
During the 44-day conflict in Karabakh, Azerbaijan liberated several cities and nearly 300 settlements and villages, while at least 2,802 of its soldiers were martyred. There are differing claims about the number of casualties on the Armenian side, which, sources and officials say, could be up to 5,000.
The two countries signed a Russian-brokered agreement on Nov. 10 to end fighting and work toward a comprehensive resolution.
A joint Turkish-Russian center is being established to monitor the truce, and Russian peacekeeping troops have also been deployed in the region.
The cease-fire is seen as a victory for Azerbaijan and a defeat for Armenia, whose armed forces have withdrawn in line with the agreement. Violations, however, have been reported in the past few weeks, with some Armenian soldiers said to have been hiding in the mountainous enclave.