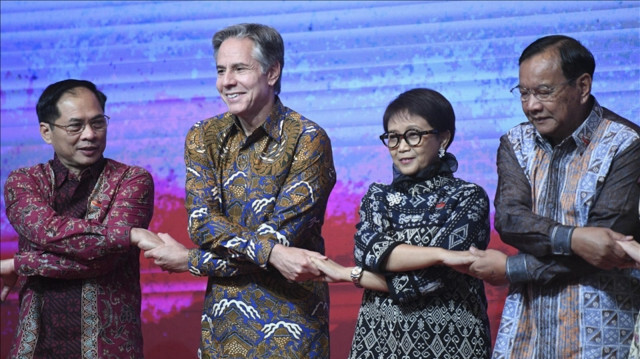 US Secretary of State Antony Blinken on Friday called for upholding "freedom of navigation" in the disputed South China Sea.
"We share a vision of an Indo-Pacific that is free, open, prosperous, secure, connected, and resilient," Blinken told foreign ministers of the Association of Southeast Asian Nations (ASEAN) in Jakarta, the Indonesian capital.
Ahead of the ASEAN-US conference in Jakarta, Blinken underscored the regional bloc's "centrality" in Washington's Indo-Pacific Strategy.
On elevating the US-ASEAN relationship to a Comprehensive Strategic Partnership last year, Blinken said: "We must uphold the freedom of navigation in the South and East China Seas and maintain peace and stability across the Taiwan Strait," a transcript of his speech read.
An aircraft of the US Navy flew over the Taiwan Strait on Thursday to demonstrate what it called Washington's "commitment to a free and open" Indo-Pacific, a move slammed by China.
Washington has increased its reach in the wider Asia-Pacific, particularly with Quad – a loose security alliance with Japan, India and Australia.
As part of Washington's Indo-Pacific strategy, the Jakarta visit is Blinken's 12th trip to the region.
"Our relationship with ASEAN is at the heart of our engagement in the Indo-Pacific, a region that, more than any other, will shape the trajectory of the 21st century," Blinken said.
Washington refers to its policy regarding the wider Asia-Pacific region as Indo-Pacific.
"That means a region where countries are free to choose their own path and their own partners; where problems are dealt with openly – not through coercion; where rules are reached transparently and applied fairly; where goods, ideas, people flow lawfully and freely across the land, the seas, the skies, and cyberspace," he explained.
Blinken said the US and the ASEAN elevating their cooperation "means deepening efforts to tackle together complex challenges that are affecting the region and, in fact, the entire planet."
On the military-ruled Myanmar, the top US diplomat said: "We must press the military regime to stop the violence, to implement ASEAN's Five-Point Consensus, to support a return to democratic governance."
Blinken also sought an "end to North Korea's unlawful weapons of mass destruction program and ballistic missile launches… which threaten the region and the global nonproliferation regime."
The ASEAN foreign ministers have expressed "grave concern" over the launch of the ballistic missiles by North Korea on Wednesday.
Blinken called on the ASEAN to "push for a just and lasting peace to Russia's war of aggression on Ukraine."
It is a war that "violates principles at the heart of ASEAN's Treaty of Amity and Cooperation and the United Nations Charter," he said.
"It's harming not only Ukrainians, but people across this region and around the world by exacerbating food and energy crises."
4 months ago