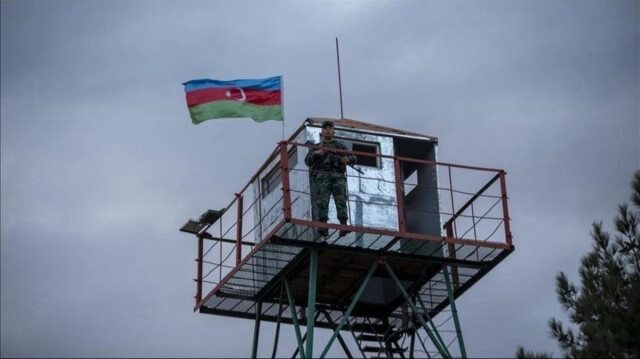 Two Azerbaijani soldiers were killed and another was injured when their military truck hit an antitank landmine planted by Armenian forces in the Karabakh region, the country's Defense Ministry said on Monday.
The Azerbaijan military truck struck the mine at 5.35 p.m. local time (1335GMT) on Sunday, the ministry said in a statement.
Two soldiers, Ekrem Shadmanov and Tural Seyidov, were killed and Elvin Aliyev was injured in the explosion of an antitank mine planted by Armenian forces on the route between Azerbaijani positions for terrorist purposes.
Aliyev is not in critical condition, the statement added.
According to some social media posts, Shadmanov was promoted to staff colonel in the Azerbaijani army before the incident.
An investigation has been launched into the incident, and the general public has been warned not to enter liberated areas until the region has been cleared of mines.
Mines planted by Armenian forces have killed several Azerbaijani civilians and soldiers in recent years.
Relations between the former Soviet republics of Armenia and Azerbaijan have been tense since 1991, when the Armenian military occupied Nagorno-Karabakh, internationally recognized as an Azerbaijani territory and seven adjacent regions.
When new clashes erupted on Sept. 27, the Armenian army launched attacks on civilians and Azerbaijani forces and violated several humanitarian cease-fire agreements.
During the 44-day conflict, Azerbaijan liberated several cities and nearly 300 settlements and villages from the nearly three-decade-long occupation.
Despite the deal ending the conflict, the Armenian army several times violated the agreement and martyred several Azerbaijani soldiers and a civilian, as well as wounded a few people, according to the Azerbaijani Defense Ministry.
2 months ago