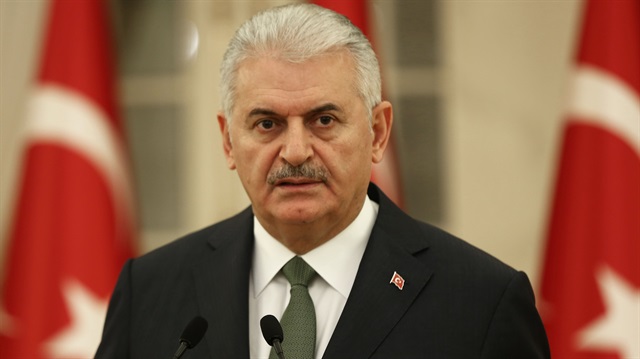 Turkish Prime Minister Binali Yıldırım vowed on Thursday that the attack on Turkish troops in northern Syria would be retaliated.
He said that attack on Turkish soldiers disclosed that "some people are not happy with Turkey's fight against Daesh."
"This attack will surely have a retaliation," Turkish PM said while answering questions over an airstrike on Turkish military positions in northern Syria earlier Thursday.
Turkish Armed Forces said in a released statement that three of its troops were martyred and 10 others were injured in an airstrike believed to be launched by Assad forces in north of Al Bab, a strategic city under the seizer of Daesh.
On the European Parliament's non-binding resolution to pause Turkey's EU negotiation talks, Turkish PM said the vote has not importance to Ankara.
He said that Turkey's relations with the EU had already been constrained.
"We expect EU leaders to stand up against this lack of vision," Yildirim said, regarding the vote. "The EU should decide whether it wants to continue its future vision with or without Turkey."
The EU lawmakers' vote comes days after Turkish President Recep Tayyip Erdoğan urged the EU to make their final decision on Turkey's EU membership bid, adding "We have limits to our patience."
He also indicated that the Shanghai Cooperation Organization (SCO) could be an alternative for Turkey against the European bloc.
Meanwhile, Turkey has been selected as the president of the next SCO meeting in 2017, becoming the first country holding the position without being a member of the organization.