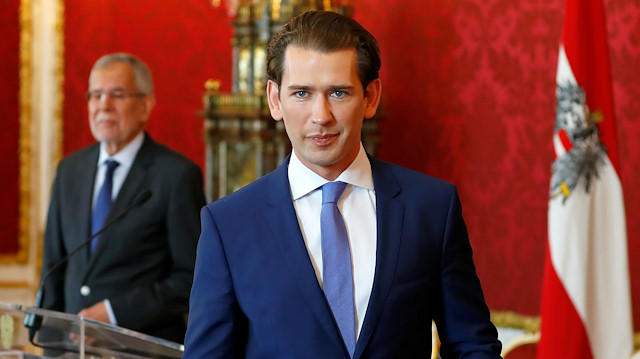 Former Austrian Chancellor and People's Party (ÖVP) Chairman Sebastian Kurz, known for his Islamophobic policies, has made yet more scandalous pledges as elections loom.
Crucifix stays, headscarf goes
Kurz, revealing the ÖVP's pledges for the snap elections on Sept. 29, promised to uphold the headscarf ban for teachers and students in Austria. He added that the crucifix in schools will be allowed in order to protect Austria's culture and traditions.
The Christian crucifix is currently at every school in the country and Jewish children are allowed to wear the kippah, a religious head cover.
Austria's far-right government, led by Chancellor Sebastian Kurz, the youngest leader in Europe, introduced a draft law banning headscarves late last year in parliament, planning to implement it without the support of the opposition.
The law bans headscarves for girls under the age of 10 at all primary schools across the country, including private schools.
Restriction against migrants to gain speed
Kurz stated that his restrictive practices against migrants and refugees, especially Muslims, will continue with his party in power. Claiming to preserve Austrian identity, he pledged strict measures against immigrants "who cause radical changes with their large population in country."
He said that the "limited" social assistance arrangement for migrants and refugees will continue, especially in the fight against irregular migration. He also added that the "child benefit'' given to foreign workers whose children are located abroad will be under stricter inspection.
Assimilating immigrant children to Austria
Kurz said a "citizenship" course will be included in school curriculums with the aim of assimilating immigrant children to Austrian values.
The fight against "political Islam''
Kurz emphasized that radical formations such as the Neo-nazi movement will be banned; moreover a new center will be established to battle "political Islam."
Austria is home to around 700,000 Muslims, including 300,000 of Turkish origin. Many of them are second or third-generation Austrian citizens from Turkish families who migrated to the country in the 1960s.
In October 2017, Austria imposed a face-covering ban which prevents people from concealing their face in all public places, including transport facilities.
Kurz's extreme right-wing People's Party (ÖVP), which remained in power for about 17 months, had enacted a number of laws restricting the living spaces of Muslims and immigrants, particularly the headscarf ban on primary school students.
Kurz, a conservative, ended his coalition with the nationalist Freedom Party (FPO) in May after leader and Vice Chancellor Heinz-Christian Strache was caught in the apparent sting operation offering to fix state contracts for a woman posing as a Russian oligarch's niece.
He said this would keep the government operating effectively until snap elections due in September.