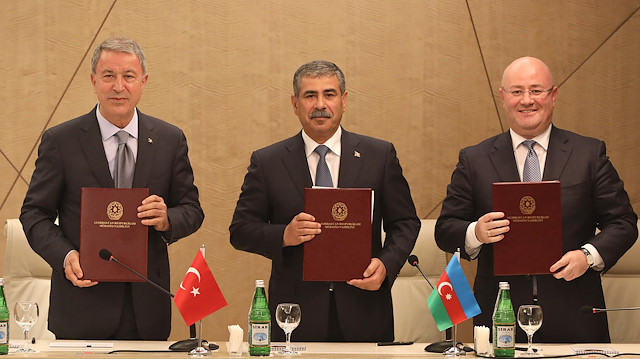 Azerbaijan on Wednesday hosted the 7th trilateral meeting of the defense ministers of Azerbaijan, Georgia and Turkey in the northern city of Gebele.
Speaking at the opening ceremony of the meeting, Turkish Defense Minister Hulusi Akar said the defense ministers of three "friendly, brotherly and allied countries" will evaluate the needs of their countries and region in terms of security and defense.
"We continue to work for stability, peace and tranquility, which will be extremely beneficial for both our countries and the region," Akar said.
The defense minister said Turkey, Azerbaijan and Georgia get strength from the common historical and cultural unity.
He underlined that relations between the three countries, which are "founded on an unshakable foundation", have reached the dimension of strategic partnership.
The meeting was closed to the media following the opening speeches.
Earlier, Akar also met separately with Azerbaijani Defense Minister Zakir Hasanov and Georgian Defense Minister Levan Izoria.
On Tuesday, he attended a joint military drill launched by Turkish and Azerbaijani land forces dubbed as "Indestructible Brotherhood - 2019".