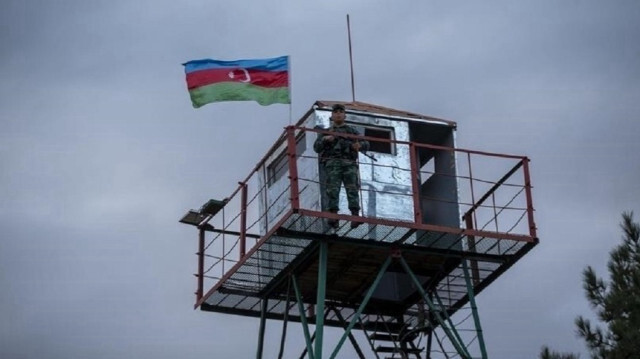 Azerbaijan says Armenian armed forces personnel in Karabakh will be allowed to return to Armenia
Armenian armed forces personnel, who were disarmed in Azerbaijan's Karabakh region will be allowed to return to Armenia, according to the Azerbaijan Interior Ministry.
The ministry said that in accordance with the agreement reached on Wednesday, the disarmed and demobilized Armenian armed forces personnel will be able to move from the Karabakh region of Azerbaijan to Armenia via the Lachin-Khankendi and Kalbajar-Basarkechar routes.
It said that the crossing will be made by buses and private vehicles.
On Tuesday, two people were killed when a truck belonging to an Azerbaijani government institution hit a mine on the Ahmadbayli-Fuzuli-Shusha highway in the Jabrayil region. Four police officers who responded to the scene were also killed when their vehicle struck another mine.
Later, Azerbaijan said it launched "counter-terrorism" measures in Karabakh to uphold provisions outlined in a trilateral peace agreement with Russia and Armenia to end the 2020 conflict.
On Wednesday morning, the Azerbaijani Defense Ministry said under the agreement achieved with the command of the Russian peacekeeping contingent it decided to halt the counter-terrorism activities.
- No pressure on Armenian residents in Karabakh
Meanwhile, the Russian Peace Force in Karabakh said the Armenian civilian population in the Karabakh region is facing no pressure from Azerbaijanis.
The forces added that life continued peacefully in the city of Khankendi.
Earlier, some claims circulating on social media suggested that there was pressure on the Armenian civilian population in the aftermath of the "counter-terrorism" measures.
Relations between Azerbaijan and Armenia have been tense since 1991, when the Armenian military occupied Nagorno-Karabakh, a territory internationally recognized as part of Azerbaijan, and seven adjacent regions.
In the fall of 2020, Azerbaijan liberated several cities, villages, and settlements from Armenian occupation during 44 days of clashes. The war ended with a Russia-brokered cease-fire.
*Writing by Seda Sevencan
3 ay önce