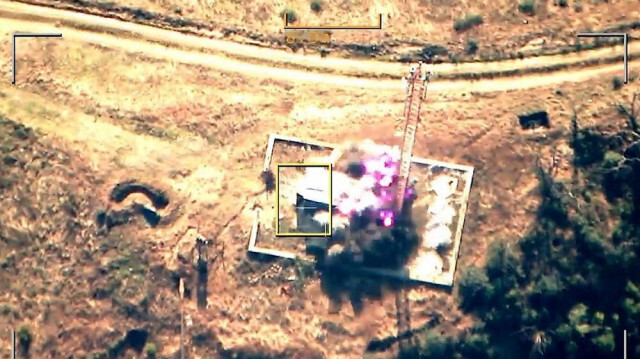 Azerbaijan's anti-terror measures in Karabakh: separatists suffer defeat
For months, Azerbaijan has been actively pursuing a peace agreement with Armenia, aiming to guide both countries towards a new era of cooperation and progress in light of the changed dynamics following the second Karabakh war. This endeavor seeks to elevate both countries to a higher level characterized by peace, growth, and development.
Azerbaijan pursued these objectives primarily through diplomatic means, concurrently engaging in the process of reclaiming its liberated territories from occupation while also quelling sporadic artillery fire from Armenian armed forces.
Nonetheless, a single misstep has the potential to undo all the long-term efforts undertaken.
At 04:30 (GMT+4) on September 19, 2023, a terrorist attack occurred near the village of Taghavard in the Khojavand district. A KAMAZ truck transporting personnel from the Ministry of Internal Affairs of Azerbaijan was struck by an explosion caused by a mine that had been previously planted by unauthorized Armenian armed groups. Notably, these groups had not withdrawn from Azerbaijani territory, despite the provisions outlined in the trilateral agreement signed by the leaders of Azerbaijan, Armenia, and Russia following the second Karabakh War in 2020.
Consequently, Azerbaijan initiated anti-terror measures aimed at addressing the presence of unauthorized Armenian forces and remnants of the Armenian armed forces in Karabakh.
As a result, in under 24 hours, the Azerbaijani Army has managed to take control of more than 90 combat positions of the Armenian armed forces units. At the same time, seven combat vehicles, one tank, four mortars, and two infantry fighting vehicles were captured as trophies from the Armenian armed forces units.
Thus, on September 20, at 13:00 (GMT+4), and agreement has been reached to stop the anti-terrorist activities under several terms.
First, the units of Armenia's armed forces deployed in the Karabakh region of Azerbaijan, as well as illegal armed groups, are required to relinquish their weaponry, vacate their combat positions and military bases, and undergo thorough disarmament. Concurrently, the surrender of all ammunition and heavy military equipment is enforced. At the same time, the implementation of the aforementioned procedure should be coordinated with the presence of the Russian peacekeeping contingent, temporarily stationed in Karabakh.
Moreover, tomorrow the representatives of Karabakh Armenians are expected to meet with Azerbaijani officials in the city of Yevlakh to discuss the reintegration process.
Azerbaijan has consistently emphasized that the sole prerequisite is for the Karabakh separatists to disarm and vacate the area, without any unnecessary delays. However, the separatists initially declined this offer. It's only now, with less than 24 hours elapsed since the Azerbaijani Army decisively altered the course of events, that they are willing to engage in negotiations. Consequently, all the speculations surrounding the so-called "humanitarian crisis" in Khankendi and the false propaganda aimed at discrediting Azerbaijan have been rendered ineffectual by the resolute actions of the victorious Azerbaijani Army.
2 months ago