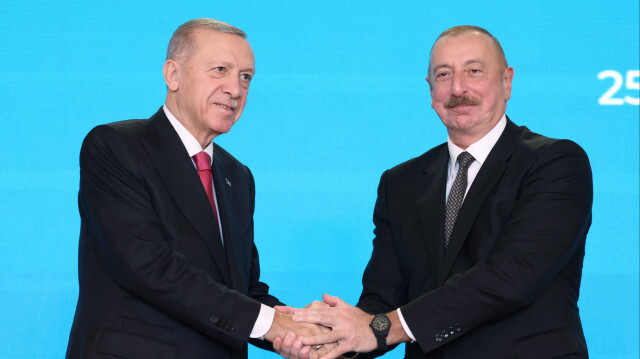 The successful completion of Azerbaijan's recent victory in Karabakh inspires pride, Turkish President Recep Tayyip Erdogan said on Monday.
"It is a matter of pride that the operation was successfully completed in a short period of time, with utmost sensitivity to the rights of civilians," Erdogan told a joint news conference with his Azerbaijani counterpart Ilham Aliyev.
Erdogan is paying a one-day visit to Azerbaijan's autonomous Nakhchivan exclave at Aliyev's invitation to discuss bilateral relations, as well as regional and global issues, particularly recent developments in Karabakh.
"I wholeheartedly congratulate the victorious Azerbaijani army for both its historic success and its humanitarian attitude towards civilians," Erdogan said.
Last week, in the wake of provocations by Armenian forces in Karabakh, Azerbaijan said it had launched "counter-terrorism" activities in the region to uphold a 2020 trilateral peace agreement with Russia and Armenia. After 24 hours, a cease-fire was reached in the region.
"With the latest victory, new windows of opportunity have opened for a comprehensive normalization in the region," Erdogan stressed, saying he expects Armenia to take sincere steps for stability in region.
Relations between Azerbaijan and Armenia have been tense since 1991, when the Armenian military occupied Nagorno-Karabakh, a territory internationally recognized as part of Azerbaijan, and seven adjacent regions.
In the fall of 2020, Azerbaijan liberated several cities, villages and settlements from Armenian occupation during 44 days of clashes. The war ended that November with a Russia-brokered cease-fire.
Tensions between the two nations, however, continue despite ongoing talks aiming for a long-term peace deal.
Aliyev and Armenian Prime Minister Nikol Pashinyan are set to meet on Oct. 5 in the Spanish city of Granada to discuss the signing of a peace treaty between the two countries.
Türkiye was the first state to recognize Azerbaijan, which declared its independence in 1991. Its relations with Baku are multifaceted and at a strategic level.​​​​​​​
2 ay önce