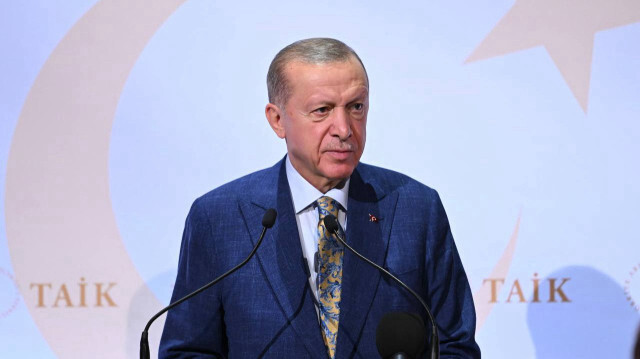 Turkish President Recep Tayyip Erdogan
Azerbaijan's sovereignty over Karabakh was reinforced after the recent "anti-terror activities" in the region, said Turkish President Recep Tayyip Erdogan said.
"As Türkiye, we stood by Azerbaijan in all processes. I strongly emphasized our support in my address to the UN General Assembly last week.
"As a result of the operation, Azerbaijan's sovereignty over the entire Karabakh was reinforced," Erdogan told reporters late Monday on the presidential plane returning from a visit to Azerbaijan's autonomous Nakhchivan exclave.
More importantly, Erdogan said, a new window of opportunity opened to establish permanent peace and stability in the region.
He added that the Azerbaijani army stood firm against the terrorists and regarded the civilian lives.
Last week, in the wake of provocations by Armenian forces in Karabakh, Azerbaijan said it had launched "counter-terrorism" activities in the region to uphold a 2020 trilateral peace agreement with Russia and Armenia. After 24 hours, a cease-fire was reached in the region.
"We expect Armenia to display a strong will instead of prolonging the process. I also expressed this expectation to Armenian Prime Minister Nikol Pashinyan, with whom I spoke over the phone on Sept. 11.
"We do not see any problem that cannot be solved if Azerbaijan's territorial integrity, sovereignty and neighborhood law are respected.
"Making progress in the Azerbaijan-Armenia process will also give great impetus to regional normalization. We will continue to work with Azerbaijan to establish stability, peace and prosperity in the South Caucasus," he added.
Relations between Azerbaijan and Armenia have been tense since 1991, when the Armenian military occupied Nagorno-Karabakh, a territory internationally recognized as part of Azerbaijan, and seven adjacent regions.
In the fall of 2020, Azerbaijan liberated several cities, villages and settlements from Armenian occupation during 44 days of clashes. The war ended that November with a Russia-brokered cease-fire.
Tensions between the two nations, however, continue despite ongoing talks aiming for a long-term peace deal.
Azerbaijani President Ilham Aliyev and Pashinyan are set to meet on Oct. 5 in the Spanish city of Granada to discuss the signing of a peace treaty between the two countries.
2 months ago