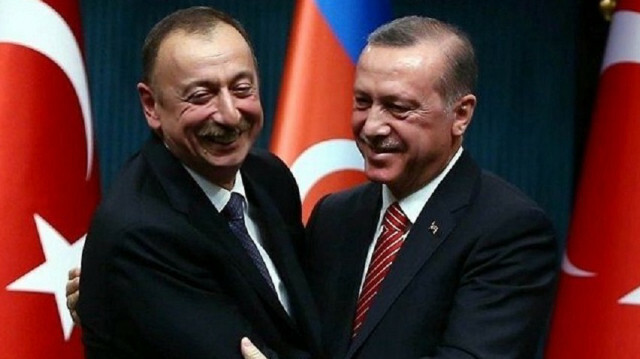 Azerbaijani President Ilham Aliyev on Friday lauded the "magnificent development" of relations between Turkey and Azerbaijan as he marked 30 years of shared diplomatic history between the two fraternal nations, Trend News Agency reported.
"I want to note with a sense of great pride that over this period, Azerbaijani-Turkish relations have gone through a magnificent course of development. Emerging from historical trials with dignity and heads held high, our countries have reaffirmed and maintained their adherence to the spirit of the 'One nation, two states' slogan," Aliyev said, marking the 30th anniversary of the re-establishment of diplomatic ties with Azerbaijan.
He addressed Turkish President Recep Tayyip Erdogan personally in a letter, saying:
Dear brother,
You have made an invaluable contribution to the development and strengthening of Azerbaijani-Turkish relations, an alliance that serves as an excellent example of friendship and brotherhood and has no comparison in the world. The resolute and unambiguous position that you have always demonstrated on the issue of the territorial integrity of Azerbaijan and the confident support that you have provided for our just cause have always inspired us and given us additional strength.
The letter went on to thank Erdogan for the support Turkey lent Baku during the Second Karabakh War in 2020:
The Azerbaijani people will never forget the moral support and solidarity demonstrated personally by you, the Republic of Turkiye, and your brotherly people from the first hours to the last minutes of the 44-day Patriotic War. And today, shoulder to shoulder with Turkiye, we are moving forward in the major reconstruction and restoration of the lands liberated from occupation, which causes deep satisfaction. We, in our turn, will always and in all matters continue to be close to fraternal Turkiye.
Relations between the former Soviet republics of Armenia and Azerbaijan have been tense since 1991 when the Armenian military occupied Nagorno-Karabakh, also known as Upper Karabakh, a territory internationally recognized as part of Azerbaijan, and seven adjacent regions.
Their most recent clashes were in September 2020, during which Azerbaijan liberated several cities and nearly 300 settlements and villages that were occupied by Armenia for nearly three decades.
During this war, Turkey and Erdogan provided unwavering support to Azerbaijan, as the country's globally lauded drones helped Baku clinch its victory in Karabakh, while the president endorsed Azerbaijan's cause on global platforms.