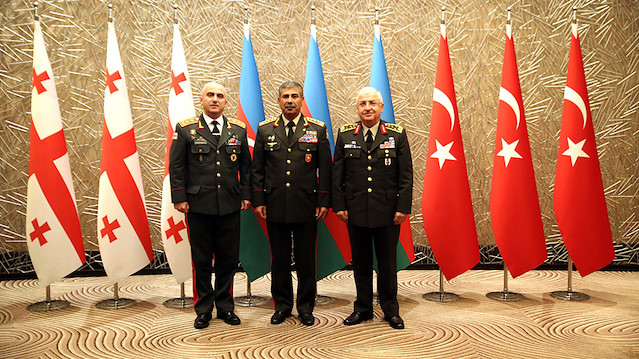 Turkish, Azerbaijani and Georgian defense officials held a trilateral meeting in Azerbaijan's capital Baku on Wednesday.
Azerbaijan's Defense Minister Zakir Hasanov hosted Turkish Chief of General Staff Gen. Yasar Guler and Maj. Gen. Vladimer Chachibaia, Georgian Chief of General Staff.
Following the tripartite meeting, the officials signed a joint cooperation protocol.
Turkey's Guler said that they exchanged views on latest developments in the region.
"Turkey, Azerbaijan and Georgia share the same views in particular on the regional stability, mutual cooperation, finding peaceful solutions to the problems and protecting the territorial integrity of countries," he said.
Azerbaijan's Hasanov, for his part, said the meeting analyzed the military and political situation in the region.
The cooperation among the three "brotherly states" is at the strategic level, he stated.
"The aim of our meeting is to ensure the security of strategic energy projects realized by the three countries and to support peace and stability in the region," Hasanov added.
He also said that the activity plans of working groups for 2019 were approved in the meeting.
The three also reiterated the territorial integrity of countries and the inviolability of borders, Hasanov said, adding, they agreed on improving cooperation in military.
The next tripartite meeting would be held in Turkey, the minister said.
Underlining the military cooperation between the three countries for the region's security, Georgia's Chachibaia said the three countries would also cooperate in education and sport.
Turkey-Georgia-Azerbaijan joint military drills would continue, Chachibaia said.
He also thanked Turkey and Azerbaijan for recognizing the sovereignty and territorial integrity of Georgia all the time.
"Azerbaijan and Turkey have stood by our side in difficult times," he said.