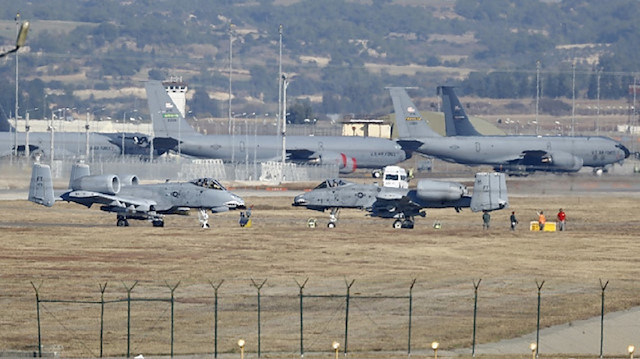 Calls to shut down Turkey's southern Incirlik Air Base where American soldiers are currently stationed have resurfaced, as the U.S.'s planned troop withdrawal from Syria stalls, prompting public opinion in the country to view the latest move as "yet another delay tactic" on Washington's part.
Ordinary Turks from all walks of life are outraged by the latest American move, which has been viewed as the latest in a series of provocations after the U.S. continued to provide arms to the Kurdistan Workers' Party (PKK)'s Syrian affiliate, the Democratic Union Party (PYD), despite a pledge from President Donald Trump to "bring troops home."
An online survey conducted by Yeni Şafak in 2017, where close to 50,000 users participated, an overwhelming majority of 97 percent called for the Incirlik Air Base to be shut down.
The United States Engineering Group began construction of a 10,000-foot runway at a new base 7 miles east of Adana, and approximately 250 miles southeast of Ankara, Turkey, in the spring of 1951. While work on the runway progressed, an American company, Metcalfe, Hamilton, and Grove, built base facilities and infrastructure under contract.
In December, Trump made a surprise announcement that the U.S. would be withdrawing all troops from Syria, and said Daesh had been defeated in the country.
Since then, no troops have been withdrawn, however, last month the Pentagon confirmed additional troops were being sent to protect American forces and equipment as they prepare to leave.