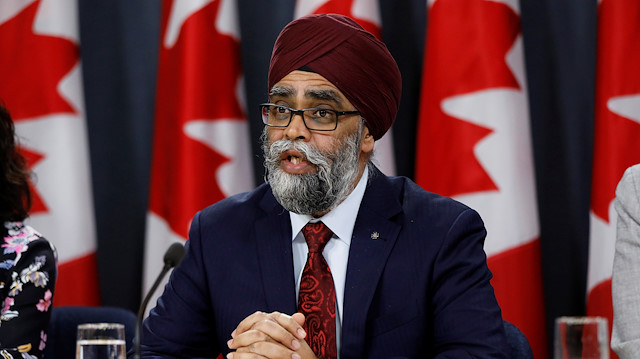 Canada's defense minister expressed "significant" concerns over China amid growing alarm over its increasingly assertive foreign policy, local media reported Sunday.
In an interview with The Canadian Press, Harjit Sajjan cited "China's unpredictability, refusal to play by the rules and expanding footprint around the world."
But Sajjan declined to describe "China as an adversary, even as he emphasized the importance of talk and diplomacy in dealing with the Chinese government," it said.
Sajjan also mentioned the continued detention of two Canadians in apparent retaliation for Canada's arrest of Chinese telecom giant Huawei's chief financial officer Meng Wanzhou, who is wanted in the US on fraud charges.
"The unpredictability that China has been showing the world — not just to Canada — is giving all of us significant concern," he was quoted as saying by The Canadian Press.
Earlier this month, China said the two Canadians -- Michael Kovrig and Michael Spavor, who have been held in separate prisons for two years on charges of espionage -- had been indicted and tried, but details are sketchy.
The news came on the second anniversary of their arrest, which occurred 10 days after Meng was arrested at the request of the US on Dec. 1, 2018 in Vancouver.