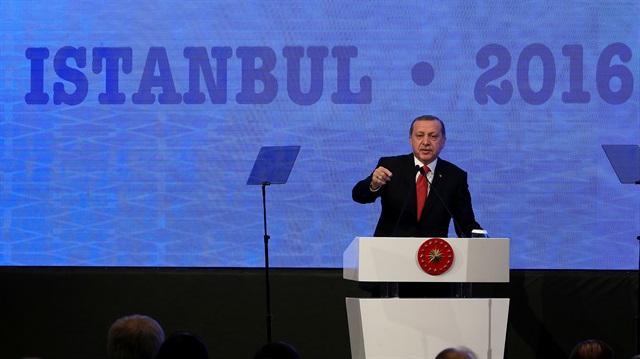 NATO Parliamentary Assembly 62nd Annual Session in Istanbul, Turkey
China is willing to consider any application from NATO-member Turkey to join a Russian and Chinese-led security bloc, China's Foreign Ministry said on Monday, after Turkish President Tayyip Erdoğan said his country could join.
China, Russia and four Central Asian nations -- Kazakhstan, Kyrgyzstan, Tajikistan and Uzbekistan -- formed the Shanghai Cooperation Organisation in 2001 as a regional security bloc to fight threats posed by radical Islam and drug trafficking from neighbouring Afghanistan.
Chinese Foreign Ministry spokesman Geng Shuang said that Turkey is already a dialogue partner of the bloc and has for a long time closely cooperated with it, which China appreciates.
China attaches great importance to Turkey's wish to strengthen that cooperation, he told a daily news briefing.
"We are willing, together with other members of the Shanghai Cooperation Organisation and in accordance with the rules of its legal documents, to seriously study it on the basis of consensus consultation," Geng added, without elaborating.
Erdoğan was quoted on Sunday saying that Turkey did not need to join the European Union "at all costs" and could instead become part of the Shanghai Cooperation Organisation.
Turkish membership of the bloc would be likely to alarm Western allies and fellow NATO members.
Having long been critical of Turkey's record on democratic freedoms, European leaders were alarmed by Erdogan's crackdown on opponents since a failed coup attempt in July, and Turkey's prospects of joining the EU look more remote than ever after 11 years of negotiations.
The EU is treading a fine line as it needs Turkey's help in curbing a huge flow of migrants, especially from Syria, while Ankara has grown increasingly exasperated by what it sees as Western condescension.
Kazakhstan, Kyrgyzstan and Uzbekistan speak Turkic languages, and Ankara signed up in 2013 as a "dialogue partner" saying it shared "the same destiny" as members of the bloc.
Mongolia, India, Iran, Pakistan and Afghanistan are observers, while Belarus, like Turkey, is a dialogue partner.
7 years ago