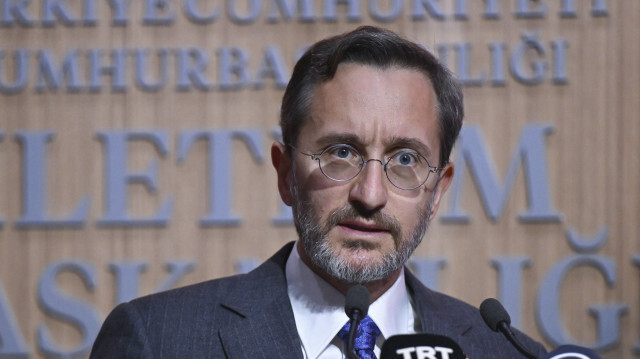 Türkiye's communications director Fahrettin Altun
Türkiye's communications director on Monday harshly criticized a columnist who tried to smear Türkiye's "free and fair" elections.
Columnist Fareed Zakaria, "who has a history of plagiarism, 'borrows' a page from the talking points of self-proclaimed Türkiye experts and supposedly objective journalists in Washington to make bogus accusations against the Turkish people," Fahrettin Altun said on Twitter.
"The textbook definition of a sore loser. I got news for you, Fareed: The Turkish people have spoken through free and fair elections – a right they forced the single-party regime to concede through hard work and sacrifice."
His remarks came a day after Zakaria, a columnist and CNN host, shared a video on Türkiye's May 14 parliamentary and presidential elections, claiming that they are "free but also profoundly unfair."
Altun said the Turkish people gave President Recep Tayyip Erdogan's People's Alliance a parliamentary majority plus Erdogan himself a comfortable lead for his reelection in the first round, headed towards a runoff this Sunday, May 28.
On Sunday, wrote Altun, the Turkish people "will cast their votes for a stronger and more independent Türkiye that plays a stabilizing role in its region and worldwide. Liberating Türkiye from the yoke of domestic and foreign tutelage has been the essence of President Erdogan's decades-long objective."
"This is the reason why the Turkish people alone chart our country's future course – and why people like Fareed have been rendered utterly irrelevant."
This Sunday, May 28, Erdogan will face Kemal Kilicdaroglu, the leader of the main opposition Republican People's Party (CHP) and joint candidate for the six-party opposition Nation Alliance, in a runoff vote.
Erdogan finished the first round with 49.52% of the vote, while Kilicdaroglu came second at 44.88%, and Sinan Ogan of the ATA (Ancestral) Alliance got 5.17%.
Ogan on Monday endorsed Erdogan for the runoff, saying: "We believe that our decision is the right decision for our country and nation."
In 2012 to 2014, Zakaria was plagued by several instances of plagiarism, which he called a "terrible mistake," but led to his temporary suspension from both Time magazine and CNN and the attaching of cautionary labels on some of his other work.
9 gün önce