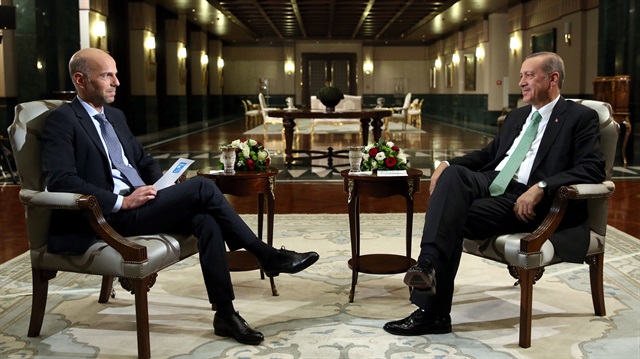 Pro-coup soldiers forced the Chief of General Staff Hulusi Akara to talk to Fethullah Gülen, the US-based leader of the Fethullah Terrorist Organization, when he was seized by the soldiers, Turkish President Recep Tayyip Erdoğan said on Saturday.

In an interview with France 24 TV, Erdoğan reiterated that Fethullah Gülen, who has been living in Pennsylvania for more than 16 years in self-imposed exile, was the mastermind of failed coup attempt that killed nearly 250 people and injured over 2,000 others on July 15.

"They had prepared for a coup attempt following an order from Pennsylvania. There are confessors among detainees. They are telling investigators from whom they took the order," Erdoğan said.

"One of them [detained soldiers] told the Chief of General Staff, 'Let's put you in touch with Fethullah Gülen,'" the Turkish president said, adding that he made this statement the first time.

FETÖ members infiltrated into state institutes particularly police, judiciary and military, attempted to overthrow President Erdoğan and the current AK Party government.

Erdoğan resembled FETÖ members as a cancer virus inside Turkey's institutions, and vowed to clean them as soon as possible.

He said there was no differences between FETÖ and Kurdistan Workers' Party (PKK) separatist terrorists group, turkey fighting over 31 years.

"We will continue operations against these separatists. We have to rid our institutions of this cancer," Erdoğan vowed.

He added the military would be rebuilt in a short time, saying that the Supreme Military Council (YAŞ) would be convened on July 28.

The YAŞ meeting, which takes place every August but has been brought forward by a few days this year due to the abortive coup, will be held in the Çankaya Mansion, not at the customary headquarters of the military General Staff.

President Erdoğan said the restructuring of Armed Forces would bring new blood.

Following the failed coup attempt, Erdoğan declared a nationwide state of emergency that would continue for three months.

While inquiring over the declaration of the state of emergency, the Turkish President said the move aimed to strengthen democracy and public rights.

Erdoğan justified the imposition of a state of emergency, with probable extensions, noting that France's own state of emergency, imposed after the November 13, 2015 Paris attacks, has been extended for another six months.

"There is no obstacle in terms of prolonging it. Initially, of course, it is three months, but after three months we can ask for a second three-month period and extend it."

My nation, my people, shouldn't have the slightest concern," Erdoğan added. "Everything is on track and the state of emergency is simply for the purpose of the healthy functioning of our democratic institutions. Our public institutions will function more smoothly."