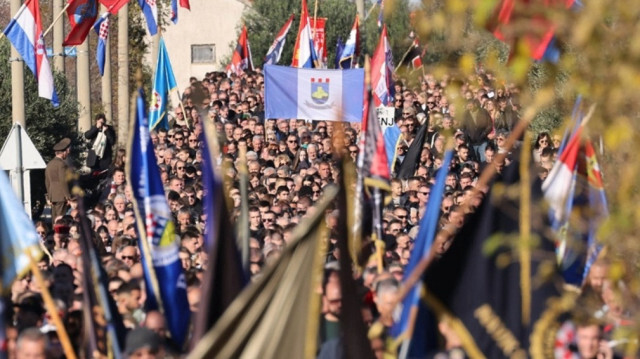 Victims of the 1991 Vukovar massacre were commemorated with ceremonies on the 32nd anniversary of the massacre on Saturday.
Vukovar, close to Serbia on the River Danube, was the scene of intense fighting after Croatia's break from Yugoslavia.
Yugoslav soldiers and Serb paramilitary troops kept Vukovar under siege for 87 days until the city was captured by Serbian forces on Nov. 18, 1991, with up to 11,000 bombs being dropped in a single day.
Thousands of citizens, as well as Croatian state officials, attended the memorial service in Vukovar.
Croatian President Zoran Milanovic and Prime Minister Andrej Plenkovic also attended the ceremony in front of a hospital, symbolizing the Vukovar massacre, where wounded were treated.
Premier Plenkovic said that Vukovar is a symbol of unity and solidarity.
Parliament speaker Gordan Jandrokovic said Vukovar is a symbol of Croatia's freedom.
Those attending joined a commemorative walk from the hospital to a memorial cemetery where victims of the massacre were buried. Relatives of the victims and other citizens laid flowers on the graves.
It is estimated that over 3,000 people — mostly Croats — were killed and thousands more were held in camps.
The city was virtually leveled during the siege.
The International Criminal Tribunal for the former Yugoslavia (ICTY) sentenced former Yugoslav army officials Mile Mrksic and Veselin Sljivancanin to 10 years and 20 years in prison, respectively, for the massacre of civilians in the city.
After the war, Vukovar was placed under UN administration and reintegrated into Croatia in 1998.
The Serb forces' invasion, which started after the siege, lasted until Jan. 15, 1998, while various war crimes were committed against the wounded and staff at Vukovar Hospital.
According to the Vukovar Hospital, at least 1,624 people were killed, about 7,000 were taken to concentration camps, and around 22,000 non-Serbs, mostly Croats, were deported from the city.
The bodies of around 500 people, killed in Vukovar, have yet to be reached.
13 gün önce