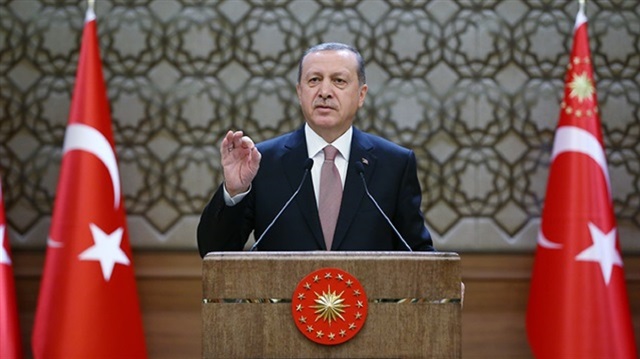 Speaking to Turkey-Africa Economic and Business Forum at Lutfi Kirdar Congress Center in Istanbul, Erdoğan said Turkey's fight against terrorism will continue until the region attains peace and security.
He criticized the western states' policy on the Syrian civil war, saying that they use the ongoing situation as a tool of utilization.
"Western countries used [Syrian babies] Aylan and Omran as tools of exploitation. They are not sincere," Erdoğan said. He was recalling the tragedies of Syrian toddler Aylan Kurdi , whose little body was found lifeless and photographed on Turkey's southern shore, and little Omran, the 5-year-old Syrian boy whose photo of him sitting on an orange ambulance seat waiting to be treated for injuries went viral, as he represented the plight of Syrian children.
He said that Turkey would not allow the humanitarian catastrophe in Syria to continue.
He called on everyone to fight against terrorism in every region regardless of their names. "I am talking about the regional terrorist groups like Daesh, YPG, FETÖ, Al Shabab and Boko Haram. We should work together against all these groups."
He said that the FETÖ terror group was one of the most dangerous terrorist organizations that has a worldwide network.
FETÖ, led by the U.S.-based cult leader Fetullah Gülen, has planned and staged a coup attempt on July 15, killing 241 and injuring 2,200 others in Turkey.
He said Turkey had established the Maarif Foundation which will run all FETÖ-linked schools around the world under the supervision of the Turkish government.
Erdoğan called on all of the nation and Turkish businesspersons to support government initiatives against the terror group.
He also slammed the global system that forces the least developed countries to borrow huge amounts from the IMF and World bank with a high interest rate.
"This is not globalization, this is a new kind of modern colonialization," Erdogan said.