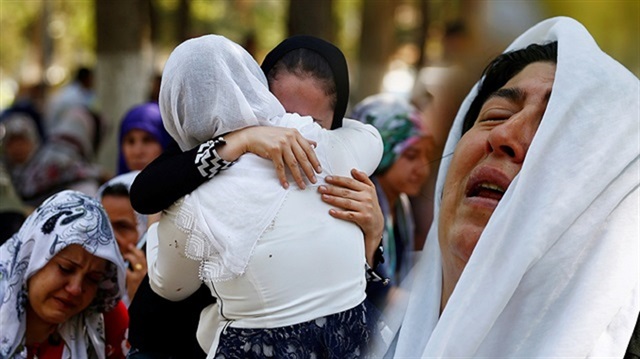 The death toll of the terror attack which targeted a wedding ceremony in the southeastern Turkish province of Gaziantep has risen to 54, as 66 people, including 14 in serious condition, are still being treated in several hospitals.
The terror attack took place in the Beybahçe neighborhood of the Şahinbey district of Gaziantep province late on Saturday, as the explosives on a child were detonated in the middle of the wedding ceremony.
No group has claimed responsibility for the attack. However, Turkish President Recep Tayyip Erdoğan said on Sunday that early signs point to Daesh as the perpetrator of Saturday's deadly blast, that targeted a wedding ceremony in the southeast.
He also said that the suicide bomber was a child between the ages of 12 and 14, according to the initial findings.
Turkey has been the target of terrorist organizations, particularly the PKK and affiliated groups such as the Democratic Union Party (PYD), the People's Protection Units (YPG), and The Kurdistan Freedom Hawks (TAK), along with Daesh.
Recently, PKK conducted attacks in Elazığ, Van and Bitlis provinces, which killed dozens of people, including many civilians,
Daesh, which has been targeting Turkey, hasn't claimed the responsibility of a large number of attacks that it conducted in Turkey including the Ankara railway station attack, which took place in October 2015 along with the attacks that were conducted in Istanbul as the Sultanahmet suicide bombing of January 2016 and the Beyoğlu suicide bombings of March 2016.