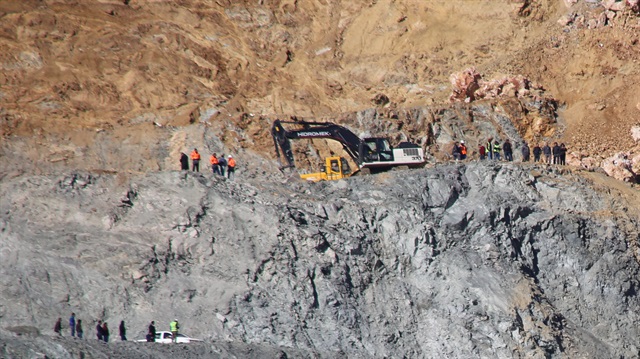 The death toll has risen to five after a landslide initially caused the collapse at a copper mine in the southeastern Turkish province of Siirt.
The accident occurred in the Şirvan town of the city on Thursday.
The rescue teams were working to reach 11 miners trapped underground after heavy rainfall led to the disaster at the Madenköy copper mine in the town.
As of Saturday, six suspects in the landslide Siirt mine disaster, including the site manager and subcontractor, were arrested over the investigation into the mine collapse case led by Şirvan Chief Public Prosecutor.
A crisis management center was established by the governor's office and an investigation was launched about the disaster.
According to Park Elektrik's website, the company which has operated the mine since 2006, the site contains an estimated 41.5 million tons of copper ore.
On May 13, 2014, an explosion at a coal mine in Soma, Manisa, Turkey, caused an underground mine fire, which burned until 15 May.
In total, 301 people were killed in what was the worst mine disaster in Turkey's history.
The second biggest mine accident occurred in northern Zonguldak province of Turkey, which killed 263 miners.