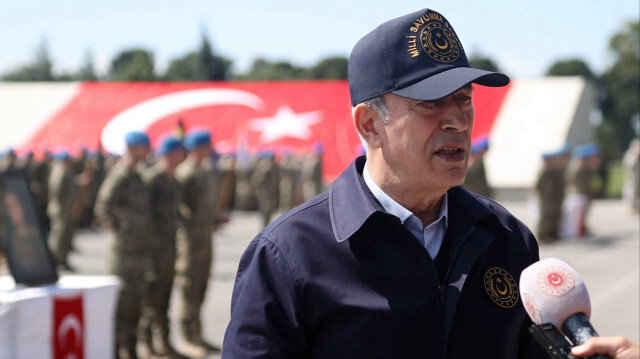 Turkish national defense minister Hulusi Akar
A meeting of defense ministers and intelligence chiefs of Türkiye, Russia, Syria, and Iran will be held in Moscow on Tuesday, the Turkish national defense minister said on Monday.
Hulusi Akar said Turkish, Russian, and Syrian defense ministers and intelligence chiefs met in Moscow on Dec. 28 last year, and resolved to continue the meetings.
"Later, views were exchanged on the participation of Iran in these meetings. This was approved by the relevant authorities. As a continuation of that session, this time as a quartet, we are preparing for a meeting to be attended by defense ministers and intelligence chiefs," said Akar.
"On April 25, this meeting is scheduled to be held in Moscow. Our aim is to solve the problems through negotiations and bring peace and tranquility to the region as soon as possible."
Akar said several positive steps are expected after the meetings.
He added that Türkiye is determined in the fight against terrorism and aims to ensure Syrians in Türkiye return to their land voluntarily, safely and with dignity.
"We have Syrian brothers and sisters with whom we are together, whether they are in Türkiye or Syria. It is out of the question for us to take any decision that will put them in trouble," the Turkish defense chief said.
5 months ago