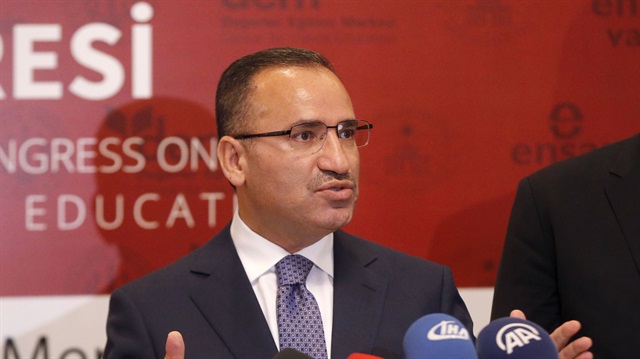 Turkish Deputy Prime Minister Bekir Bozdağ said on Saturday Turkey strongly condemned the enemy chart incident at a NATO drill in Norway.
"We strongly condemn those who conducted this dishonorable action. NATO's apology is important, but I believe they also have some responsibility in the incident. All necessary actions should be taken regarding those who did this," Bozdağ said.
Bozdağ added that there is an "international cooperation" against President Recep Tayyip Erdoğan.
"This [international cooperation] reached a level that gave a soldier courage to show the founder and current leader of a NATO country as an enemy target during an exercise," said Bozdağ speaking to reporters in southeastern Şırnak.
"Until now NATO has not seen a scandal like this. Neither did the world," Bozdağ said, adding that NATO should take necessary steps that will prevent such incidents in the future.
Bozdağ welcomed the removal of those responsible from the incident and the apology of NATO secretary-general. However, he added that those who run NATO also have responsibility to take.
A Norwegian national was removed from the exercise as a consequence of the incident. Erdoğan was depicted as an "enemy collaborator" during the drill.
"There was an incident in Norway," Erdogan told ruling Justice and Development (AK) Party members in Ankara on Friday.
"They used an enemy chart in Norway. In that chart, there was my name and [Mustafa Kemal] Atatürk's picture."
Immediately after the incident, Turkey withdrew from the Trident Javelin exercise, Erdoğan announced.
Following the incident, NATO Secretary General Jens Stoltenberg has apologized to Turkey. In a written statement, Stoltenberg said: "I apologize for the offense that has been caused. The incidents were the result of an individual's actions and do not reflect the views of NATO."
Stoltenberg's statement said that the individual in question "was immediately removed from the exercise by the Joint Warfare Centre, and an investigation is underway".
"He was a civilian contractor seconded by Norway and not a NATO employee. It will be for the Norwegian authorities to decide on any disciplinary action," he also said.
Stoltenberg added that Turkey is a "valued NATO Ally, which makes important contributions to Allied security."
Polish Maj. Gen. Andrzej Reudowicz, the commander of the Joint Warfare Center (JWC) in Stavanger, Norway where the exercise took place, has also issued a letter of apology over the incidents, according to the anonymous NATO official.