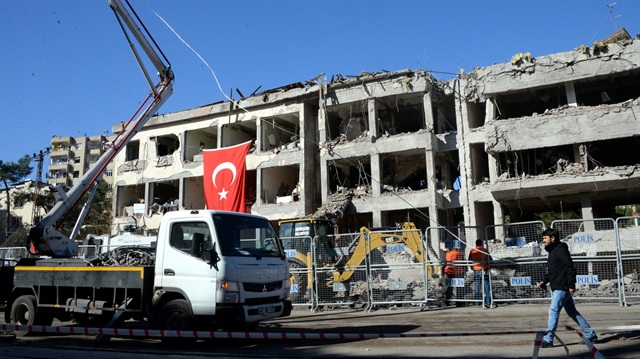 The blast in Diyarbakır that killed 10 people and injured over 100 on Friday was perpetrated by an outlawed Kurdistan Workers Party (PKK) terrorist, code named 'Kemal', the Diyarbakır Governorate Office said on Saturday.
"Three tons of explosives were used in the attack," the governor's office said in a statement.
The attack occurred hours after Turkey's police detained a dozen of Peoples' Democratic Party (HDP) lawmakers over their support to terrorist groups.
In an earlier statement, the governorate office had announced that PKK claimed responsibly for the attack.
Explosive experts said the details of the explosion indicated that it was a PKK-type attack.
Turkish Prime Minister also said the attack was carried out by PKK members and one of the terrorists was killed in the scene.
International reactions
The attack was strongly condemned by the United States and the European Union.
Despite the experts' statement and governorate's announcement that the attack was carried out by a PKK terrorist, some international media outlets, including Reuters, launched a campaign to show the PKK as being innocent, claiming that Daesh terrorists were behind the attack.
Some PKK-HDP sympathizers also joined the Reuter's perception operation and shared the news to cover up the PKK's attack that could be an act of revenge against the HPD deputies' detentions.
"Depending upon walky-talky conversation among PKK members, the security and intelligence units confirmed that the blast was carried out by the separatist terrorist organization [PKK]," the governorate said.
A multi-phased investigation was launched immediately after the incident and the legal authority will share the details following the inspection, the statement read.