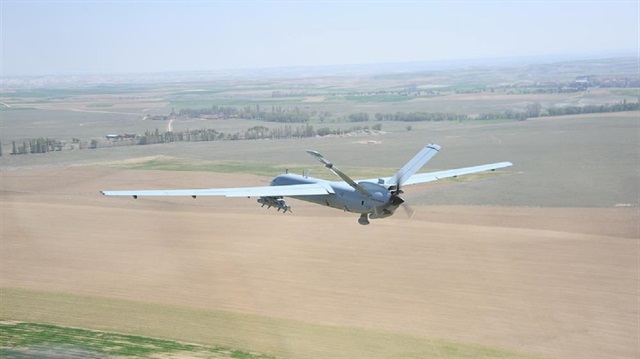 Turkey has taken initiatives to manufacture unmanned ground vehicles in addition to unmanned aeriel vehicles and unmanned combat aerial vehicles that have been used in the country's counterterrorism operations.
Once the project of unmanned tanks President Erdoğan announced on Wednesday is complete, those products will be used in close combat both domestically and abroad, according to reports. As such, the project will increase Turkey's exports in the field of defense and it will place Turkey among global defense giants.
Addressing the 11th Development Plan Publicity Meeting in the Presidential Complex in Ankara, Turkey's President Recep Tayyip Erdoğan extended his gratitude to the manufacturers of unmanned aerial vehicles and unmanned combat aerial vehicles utilized in Turkey's Operation Olive Branch in Syria's Afrin and said: "We will take a step further. Now we have to produce unmanned tanks and we will do this."
On Jan. 20, Turkey launched Operation Olive Branch to clear PYD/PKK and Daesh terrorists from Afrin, northwestern Syria.
Erdoğan stated that bad neighbors led Turkey to develop recon and combat drone technology. "We need to be able to manufacture unmanned tanks and we will do this. We are becoming a country that possesses this technology," he asserted also by stressing both public and private sectors in Turkey cooperated in the field of defense.
He also said that while Turkey's budget for defense projects was $5.5 billion in 2002, it exceeded $41 billion in 2017.
Turkey's other 'unmanned' projects
A Turkish company based in the central Konya province developed an unmanned ground vehicle to prevent casualties among security forces in 2017. The mini tank named Ankebot could help security forces fight terrorists by intervening in dangerous scenarios from a relatively safe distance of 200 meters. Controlled by a joystick remote control system, which has a battery life of eight hours and is capable of cruising six kilometers per hour with a load of 100 kilograms, the mini tank could be used for bomb disposal, fire-fighting, close combat and the transportation of injured personnel.
Anka, Bayraktar and Karayel are also other unmanned aerial vehicles (UAV) and unmanned combat aerial vehicles (UCAV) Turkey domestically produces and uses in counterterrorism operations.