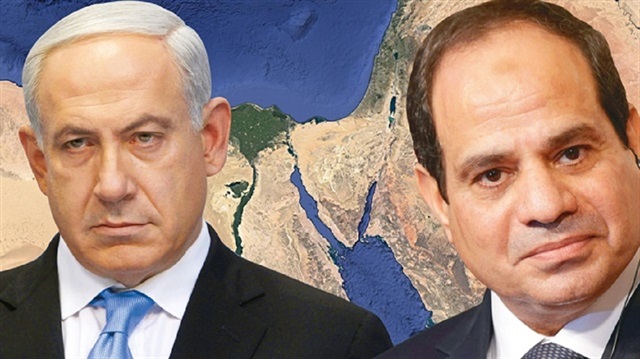 Egypt to sell parts of Sinai to Israel
Putschist General Abdel Fattah el-Sisi's administration plans to sell some of Egypt's regions of the Sinai Peninsula to Israel, according to reports.
According to a report by The New Arab news website, Egyptian newspaper el-Masriyun was censored by the authorities for publishing details regarding the meetings between Cairo and Tel Aviv which discussed reaching a deal to sell parts of the Sinai Peninsula.
The same report claimed that during the meeeting, the two neighboring countries discussed Israel's attempt to simultaneously intesify the occupation of al-Aqsa Mosque and the siege in Gaza.
On Sunday Hamas released a statement saying that the Palestinian President Mahmoud Abbas's punitive sanctions targeting Gaza were evidence of "separatist policies aiming to divide Palestine and split Gaza from the West Bank."
Palestinians exiled to Sinai
According to information obtained by el-Masriyun newspaper, the plan to sell parts of the Sinai Peninsula by el-Sisi administration, which is dealing with a sinking economy, involves a "lucrative offer."
After reaching a land sale deal with Egypt, the second phase of the Israeli plan involves exiling Palestinians to the parts of the Sinai Peninsula acquired from Egypt.
After the confidential talks were exposed, Egyptian security forces ramped up their crackdown on the media and blocked outlets that reported the news about the planned sale of parts of the Sinai Peninsula, according to The New Arab website.
Israel had previously expressed its interest in Sinai when remarks by Israeli Transportation Minister Eyub Kara surfaced last February in which he spoke about a plan to move Palestinians to the peninsula, in cooperation with Egyptian officials.
El-Sisi administration had previously sold two islands, Tiran and Sanafir, in the Red Sea to Saudi Arabia, sparking nationwide protests and uproar in Egypt.
Settlers' terrorism on the rise
The latest report published by the U.N.'s Office of Coordination of Humanitarian Aid (OCHA) highlighted the terrorist practices carried out by Israeli settlers in the occupied Palestinian territories.
The report documented a 88 percent increase in violence against Palestinians in the first half of 2017 alone, compared to the previous year.
The report pointed that Palestinian children were also the target of Israeli setters' terrorism, in addition to the damage inflicted on thousands of Palestinian properties.
Aljazeera's office shut down
Following the lead of UAE, Saudi Arabia and Egypt in isolating and blockading Qatar, the Israeli administration was emboldened to proceed with shutting down Al-Jazeera's office in Jerusalem.
Israel also revoked the credentials of Aljazeera's Palestinian employees.
Israeli Prime Minister Netanyahu had previously expressed his unease regarding Aljazeera reporting the plight of Palestinians under occupation to the world.
6 years ago