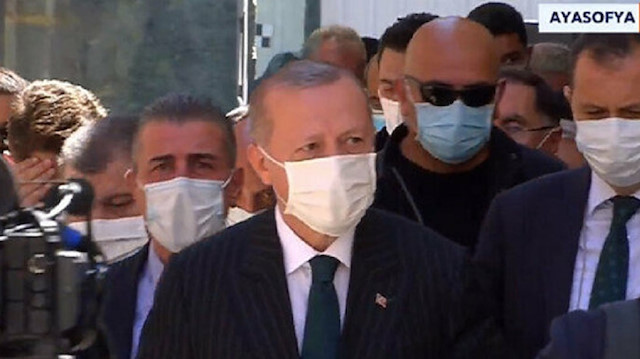 Turkish President Recep Tayyip Erdoğan in Hagia Sophia
Turkey's President Recep Tayyip Erdoğan arrived at Istanbul's Hagia Sophia mosque to attend the Friday prayers that will be conducted for the first time in 86 years.
Hagia Sophia served as a church for 916 years until the conquest of Istanbul, and a mosque from 1453 to 1934 – nearly half a millennium.
On July 10, a Turkish court annulled a 1934 Cabinet decree that had turned Hagia Sophia into a museum, paving the way for its use again as a mosque after an 86-year hiatus.
On July 16, Turkey's Religious Affairs Directorate signed a cooperation protocol with the Culture and Tourism Ministry to run Hagia Sophia after its conversion to a mosque.
Under the protocol, the Culture and Tourism Ministry will supervise restoration and conservation work, while the Religious Affairs Directorate will oversee religious services.
The site will be open to domestic and foreign tourists free of charge.
3 yıl önce