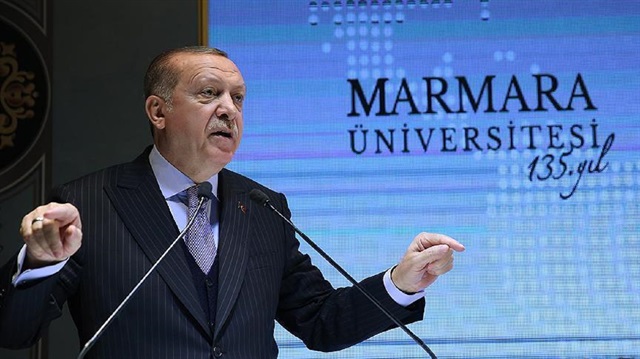 Turkey's President Recep Tayyip Erdoğan said Friday the Fetullah Terrorist Organization (FETÖ) had destroyed the future of the nation.
FETÖ and its U.S. based leader Fetullah Gülen organized the defeated coup bid on July 15, 2016 which left 250 people martyred and nearly 2,200 injured.
Speaking at the 135th founding anniversary of Marmara University in Istanbul, Erdoğan said: "FETÖ has usurped our future with the evil they have done to the children of this nation. It stole our future and split the [Muslim] Ummah."
Erdoğan indicated that the coup attempt in 2016 and the Dec.17-25 plot against the government were linked to the debates of closing coaching centers, known as dersane, across the country in 2012.
He was referring to a so-called graft probe against top government officials to overthrow Turkey's elected government followed by a large-scale raid on Dec. 17-25, 2013, which led to the detention of prominent figures.