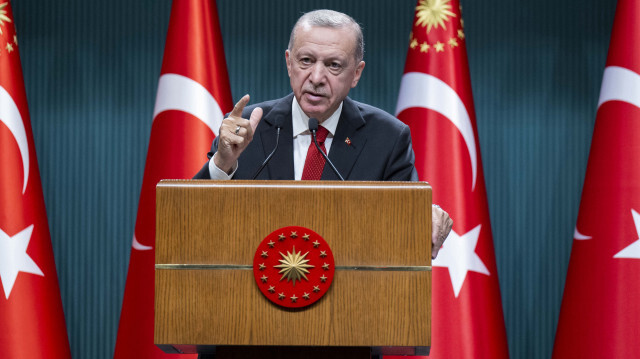 Turkish President Recep Tayyip Erdogan
A comprehensive investigation into the Kakhovka dam explosion in Ukraine leaving no room for doubt is important, Turkish President Erdogan said on Wednesday.
In a phone call with his Russian counterpart Vladimir Putin, Erdogan said a commission could be established with the participation of Russian and Ukrainian experts, the UN, and the international community, including Türkiye, according to the Türkiye's Communications Directorate.
An emergency was announced on both sides of the dam after the burst – one side is controlled by Russia, the other by Ukraine.
Russia and Ukraine on Tuesday accused each other of damaging the Kakhovka dam, which led to the flooding of the neighboring settlements.
Moscow accused Ukraine of attempting to cut Crimea off the freshwater it receives from the Kakhovka Reservoir, formed by the dam, while Kyiv claimed that Russia tries to slow down an expected counteroffensive.
Underlining the importance that the whole world attaches to the continuation of the Black Sea grain deal, Erdogan said the agreement they established through joint efforts plays a vital role in tackling the global food crisis.
Erdogan also told Putin that the continuation of consultations with the UN to remove obstacles to the export of Russian grain and fertilizers is beneficial.
Emphasizing that Türkiye is determined to continue to make the necessary efforts to establish peace between Moscow and Kyiv, Erdogan said Ankara is ready to sincerely provide all necessary support to end the conflicts.
4 ay önce