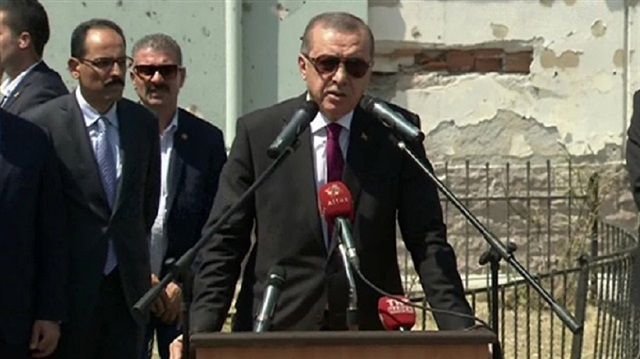 Turkish President Recep Tayyip Erdoğan has harshly responded to the Western criticism towards the arrests over the coup attempt of July 15 that targeted the democratically-elected government, by saying that the Western concerns are nonsense as the detentions will rise if more guilty people are detected.
"One of the people who expressed concern was a general who said some officers with whom the United States (U.S.) had relationships are imprisoned for their role in a recent coup attempt in Turkey. Who are you to say such a thing? Know your place! One should feel embarrassed to say such a thing, "said Erdoğan during his speech at the Special Operations Department in Ankara Gölbaşı.
"They reveal their hidden face with these kinds of statements. They have been protecting the coup plotters in their country. But the Turkish nation knows who are behind this bloody attempt and who are the major actors," he said.
Erdoğan also said countries should be praising Turkey for putting down the attempted coup plotters instead of standing by them.
Erdoğan's words followed the head of U.S. Central Command, Joseph Votel who said they had relationships with a lot of Turkish military leaders and he was concerned about the impact on those relationships as they continue.
Before Erdoğan, Turkish Foreign Minister Mevlüt Çavuşoğlu described the comments of Votel "unfortunate".
"If they (the Americans) ask whether the fight against Daesh has been weakened due to the army purge, we say that, on the contrary, when the army has been cleansed...it becomes more trustworthy, clean and effective in the fight," Çavuşoğlu previously said.
Çavuşoğlu also recalled Turkey's request of the U.S. to extradite Fetullah Gülen, the head of the Fetullah Terrorist Organization (FETÖ/PDY).
Fetullah Gülen, who resides in the northeastern U.S. state of Pennsylvania, is indicated to be responsible for the coup attempt of July 15, in which 246 people, including a large number of civilians, were martyred.
Gülen has been pursuing a long-running campaign to overthrow the government through infiltrating the Turkish state, particularly the military, police and judiciary, forming the so-called "parallel state."
7 years ago