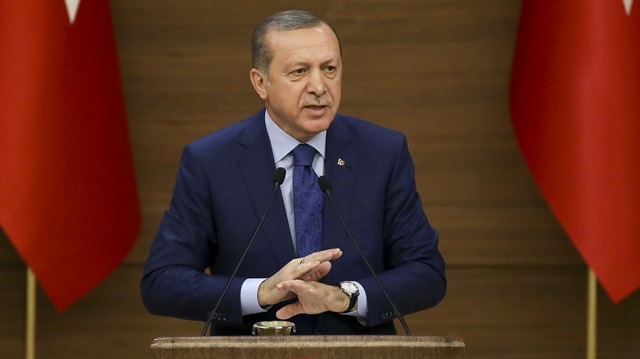 Turkish President Recep Tayyip Erdoğan harshly criticized members of the Peoples' Democratic Party (HDP) who rejected signing a declaration against terrorism in response to the attack perpetrated in Turkey's capital, Ankara, on February 13 which left 37 people dead and dozens injured, as the other three parties in the Grand National Assembly of Turkey approved it.
"We need to leave our differences aside and unite against terrorism. However, I cannot call the members of the party that has been acting like a sub-branch of a terrorist organization, representatives but terrorists. Hence, I am calling the other three parties to unite, not this party (HDP)," Erdoğan said in his speech at the Presidential Complex in Ankara.
"We need to reconsider Parliamentary privilege. The people who encourage terrorist activities should be judged, " Erdoğan added.
"Can killing innocent people and democracy have a connection? Some parties are miserable enough to attempt to take advantage of an attack targeting the capital," said Erdoğan
"You will pay the price for the things you have done. We will find you everywhere you hide, in every cave that you have been hiding in. Turkish soldiers and police will do what is needed and bring you to account for the soldiers that were martyred," said Turkish President, addressing the Kurdistan Workers' Party (PKK).
"No one can show the terrorists that dance the halay to death ballads as 'apostles of democracy.' It is already understood that the nerve of the terrorist group is related to their incompetence. That's the reason this terrorist group has been spreading fear and terror," Erdoğan said.
Erdoğan's harsh criticism of the HDP members followed the joint declaration published by three of the four political parties represented in Turkey's parliament condemning terrorism after the March 13 attack.
"We say that expressing and sharing this common grief is more important than any political or ideological attachment," the statement signed by the ruling Justice and Development Party (AKP), main opposition Republican People's Party (CHP) and the Nationalist Movement Party (MHP) read.