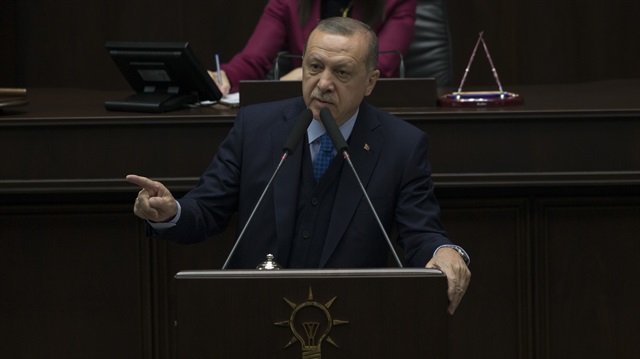 Turkish President Recep Tayyip Erdoğan on Tuesday at a general assembly meeting of his ruling Justice and Development (AK) Party evaluated the country's ongoing Afrin operation in northwestern Syria as well as the early elections.
"The new period will be one of more democracy, stronger law, more prosperity and more freedom," Erdoğan said.
"We will begin our election campaigning in European countries in May," he added.
The parliament on Friday passed a bill calling for early elections on June 24, with 386 lawmakers from both the ruling and opposition parties supporting the move. The polls were expected to be held in November 2019.
In an April 2017 referendum, Turkish voters approved a bill switching Turkey from a parliamentary system to a presidential one.
Under the changes, the number of lawmakers in parliament rises from 550 to 600, presidential and parliamentary elections are held every five years, and presidents can retain ties to their political party. The prime minister post is also abolished.
State of emergency
The president slammed the behavior of opposition lawmakers, including Republican People's Party (CHP) party leader Kemal Kılıçdaroğlu. CHP deputies banged their desks and chanted slogans against the emergency rule on Monday.
Erdoğan said that Turkish voters will provide an apt response during the June 24 elections.
"There is a very strange scenario being enacted. You [CHP] always put your tail between your legs and run," said Erdoğan, inviting CHP's Kılıçdaroğlu to run as a presidential candidate.
"In this process, there is an environment of tranquility. They are demanding the state of emergency to be lifted in such environment," he said.
"Why? Because their game will be spoiled; for this reason, we will not let you subvert the order."
Turkey declared a state of emergency for the first time on July 20, 2016, following the defeated coup by Fetullah Terrorist Organization (FETÖ).
Erdoğan hails Afrin op
Erdoğan highlighted Turkey's determination in its fight against the PKK terror group.
"We will not leave [southeastern mountains of] Cudi, Gabar, Bestler-Dereler, Tendurek, and Qandil. We will continue to do what is necessary for the peace of our people. We will continue to do what is necessary in northern Syria," Erdoğan said.
"The number of neutralized terrorists in Afrin as a result of Operation Olive Branch is 4,272, and 353 terrorists have been neutralized in northern Iraq. There is no stopping," he added, noting that 258 terrorists had also been neutralized domestically.
Airstrikes on PKK targets in northern Iraq, where the terror group has its main base in the Mt. Qandil region, near the Iranian border, have been carried out regularly since July 2015, when the PKK resumed its armed campaign.
"The struggle the Free Syrian Army (FSA) is conducting beside our Turkish troops [in Operation Olive Branch] cannot be put aside. They conquered death in northern Syria. They hung their flag beside ours in liberated areas. Over 200 FSA fighters have been martyred in this struggle. Operation Olive Branch is an epic tale. So is Operation Euphrates Shield," Erdoğan said.
Operation Olive Branch was initiated on Jan. 20 in Afrin to establish security and stability, eliminate terrorists of PKK/KCK/PYD-YPG and Daesh, and save locals from the terrorists' oppression and cruelty.
On March 18, Turkish-backed troops liberated the Afrin town center, which had been a major hideout for the YPG/PKK terrorists since 2012.