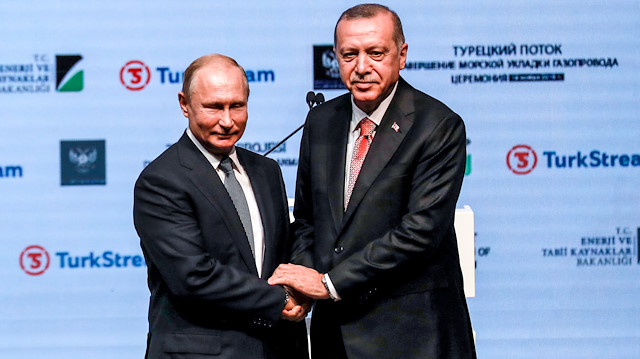 ​Turkish President Recep Tayyip Erdoğan and his Russian counterpart Vladimir Putin
Turkish President Recep Tayyip Erdoğan and Russian counterpart Vladimir Putin attended Monday a ceremony marking the completion of the construction of the offshore section of the TurkStream project, a gas pipeline that will carry Russian gas to Turkey and Europe.
Speaking at the ceremony, Erdoğan said that TurkStream natural gas project had many advantages not only for Turkey, but also for its region, neighboring countries.
Erdoğan called Russia a "reliable' partner for Turkey" and an "important" natural gas provider that Turkey can cooperate with in the long run.
TurkStream natural gas pipeline project will be ready to operate in 2019 after tests are carried out, said President Erdoğan.
Erdoğan said Turkey's goal was to reach a bilateral trade volume of $100B with Russia, adding that Turkey purchased 387 billion cubic meters of natural gas from Russia since 1987.
President Erdoğan said Turkey's solidarity with Russian president and people will pave way for bigger projects for both countries in the future.
Putin: Turkey is key energy hub
Turkey is becoming an important international energy hub as the TurkStream pipeline project becomes a reality, Putin said in Istanbul on Monday.
Becoming an energy hub will strengthen Turkey's geopolitical position, Putin said at the ceremony alongside Erdoğan.
Construction of the TurkStream will have a positive impact on the development of the whole Black Sea region and will be an important safeguard for European energy security, he said.
Completion of the most difficult section of the gas pipeline testifies to the effective cooperation between Turkey and Russia in very important and complex areas, said Putin.
According to Putin, the basis of the project's success is trust between the two countries.
"I am sure that the TurkStream, as well as our other joint project -- the Akkuyu nuclear power plant -- will become a bright symbol of the development of a multifaceted Russian-Turkish partnership, and a symbol of friendship between our peoples," he said.
The Russian leader said the gas pipeline's construction is being carried out in accordance with the highest technological and environmental standards.
He said he also expects construction of the land section will be finished quickly as well.
Echoing Erdoğan's words setting a Turkish-Russian trade target of $100 billion a year, Putin said he "had no doubts" the two countries would achieve this goal.
The TurkStream project is an export gas pipeline set to cross beneath the Black Sea from Russia to Turkey and also further extend to Turkey's borders with neighboring countries.
TurkStream's first line is set to carry 15.75 billion cubic meters (bcm) of natural gas to Turkey. With a second line that goes to Europe, the project is to have a capacity of 31.5 bcm per year.
5 yıl önce