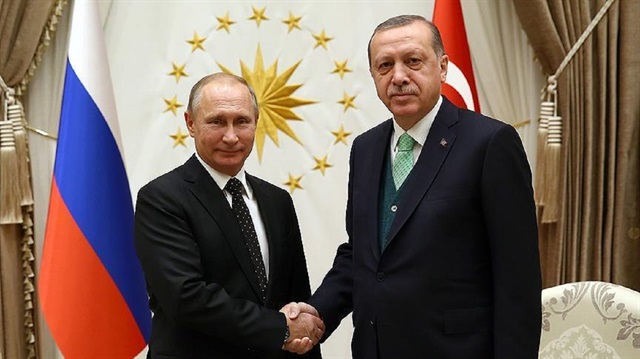 In a telephone call late Thursday, the Turkish and Russian presidents discussed continuing Assad regime attacks on civilians in Syria as well as bilateral ties, according to presidential sources.
During the conversation, Turkish President Recep Tayyip Erdoğan told Russian President Vladimir Putin that ceasing regime attack on civilians in Eastern Ghouta and Idlib, Syria is key for the success of the Astana peace process and an upcoming Syria conference in Sochi, Russia, said the sources, who asked not to be named due to restrictions on speaking to the media.
They also discussed the ongoing Akkuyu Nuclear Power Plant and Turkish Stream projects as well as other aspects of energy sector cooperation.
The two leaders also voiced their resolve to further improve bilateral ties in every area.
Erdoğan and Putin also spoke about a meeting of the Turkey-Russia High-Level Cooperation Council set for later this year.
The Syria conference on Sochi is set to be held on Jan. 29-30 with the participation of about 1,700 people.
Excluding terrorist groups, all sectors of Syrian society are to be represented at the conference.