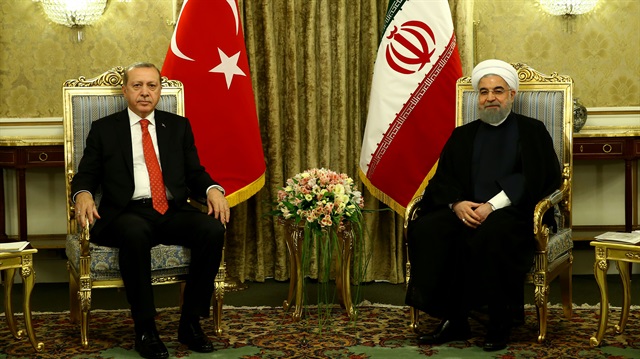 President Recep Tayyip Erdoğan and his Iranian counterpart Hassan Rouhani delivered a joint press conference in Iran on Wednesday.
"Iran and Turkey are the most important names of the region because of their power. In recent days, the relations of the two countries have further developed politically and economically," said Rouhani, thanking Erdoğan for accepting his invitation for an official visit.
THREE CUSTOMS GATES TO WORK 24 HOURS
"Two customs gates will open from tomorrow, and be open 24 hours. Following the construction of the third gate, it will also be open 24 hours," he added.
Rouhani also commented on economic ties between Turkey and Iran.
"We are determined to boost economic ties. Turkey is ready to import more natural gas from Iran. We are targeting an annual trade volume of $30 billion. Joint tourism agencies will also be established," Rouhani said.
Turkey has seen a massive increase of 142 percent in its crude oil imports from Iran in the first seven months of 2017, compared to the same period last year.
REMEDY KRG MISTAKE
"Our main goal is to ensure security and stability in the region. Sectarian discrimination is the plot of foreigners in the region. Both countries do not accept discrimination. Northern Iraq should make up for its mistake. We support the territorial integrity of Iraq and Syria," Rouhani said, rejecting the Kurdish Regional Government's (KRG) illegitimate referendum as a foreign sectarian plot for division.
Rouhani added that Ankara and Tehran would confront the disintegration of Iraq and Syria.
BILATERAL TIES
"We discussed political, military, cultural matters. Our ministers also held bilateral talks. We had set a goal of $30 billion annually in trade years ago however we have been stuck at $10 billion," Erdoğan said.
Erdoğan added that trade between Iran and Turkey would be conducted in national currencies.
"Our Central Banks are due to sign an agreement, and we are determined to intensify our energy cooperation," he said.
Erdoğan reiterated his condemnation of the KRG referendum, stating that it was an illegal course of action conducted jointly with Israel.
"The Iraq issue has become a priority on our agenda. We have already stated that we do not recognize the KRG's illegitimate referendum. What is the northern Iraqi Regional Government holding a referendum on? There is no country that recognizes northern Iraq other than Israel. A decision made at a table with Mossad is illegitimate," Erdoğan continued.
"Our point of contact in Iraq is the central government. There are steps regarding the KRG that will intensify. We place a great importance on the de-escalation zones in Syria," he said.