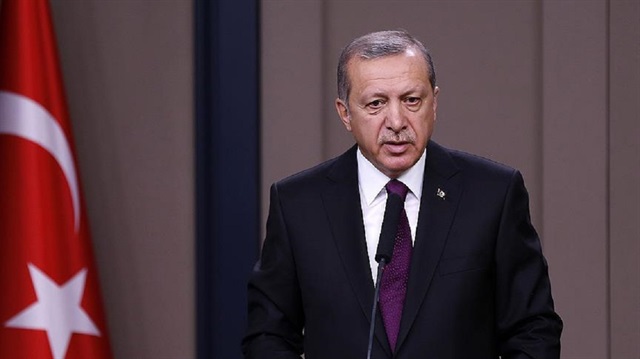 President Recep Tayyip Erdoğan on Thursday said U.S. President Donald Trump would do what former President Barack Obama failed to do regarding Fetullah Gülen, U.S.-based mastermind of last July's failed coup.
"I believe Trump will do what President Obama failed to do in this regard," Erdoğan said in a televised interview on A NEWS, a private English-language news network in Turkey.
The president said he expected the U.S. to take the necessary administrative decision to prevent Gulen from operating a terrorist organization in Pennsylvania.
"This terrorist leader is residing in a country, which is our strategic ally, and it is upsetting not only me but also the Turkish nation.
"I think they will at least call him to account," he said.
The Fetullah Terrorist Organization and its U.S.-based leader Fetullah Gülen orchestrated the defeated coup of July 2016, which left 249 people martyred and nearly 2,200 injured.
Ankara has also said FETO is behind a long-running campaign to overthrow the state through the infiltration of Turkish institutions, particularly the military, police and judiciary.
Gülen has lived in self-imposed exile in the U.S. state of Pennsylvania since 1999.
Following the failed coup, Turkey sent the U.S. an official request for Gülen's extradition based on a 1979 treaty between the two countries.
Upon Washington's request, Turkey sent another file last August along with evidence to the U.S. that summarized four previously sent files. Afterwards, a U.S. delegation visited Turkey at the end of August and monitored those documents.
The U.S. then wanted an additional batch of files and evidence from Turkey, which Justice Minister Bekir Bozdağ presented to then-U.S. Attorney General Loretta Lynch during a meeting last October.
The extradition treaty includes an article that a suspect should be provisionally arrested until the extradition process starts.
Under normal circumstances, Gülen should have been arrested since Turkey made the official request Sept. 10.
Erdoğan is officially scheduled to visit the U.S. on May 16 and 17.
Gülen's extradition will top the agenda as well as Syria and Iraq.