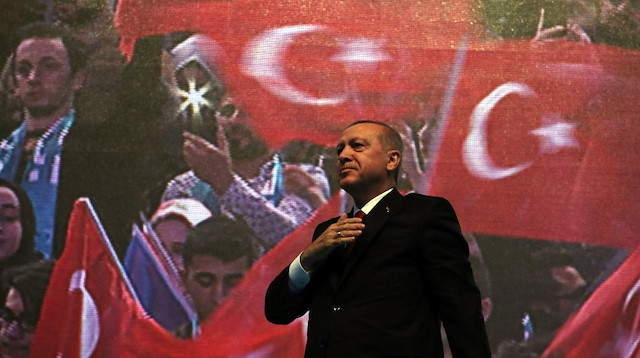 Turkish President Recep Tayyip Erdoğan
Influential Arab media outlet Rassdnews has announced the results of its poll ranking the most prominent events, leaders and people of 2018.
Turkish President Recep Tayyip Erdoğan was crowned as the most "prominent president" of the year 2018 by Egyptian publication Rassdnews with a 77 percent vote.
Former Egyptian President Mohamed Morsi ranked in second place with a 52 percent vote. In addition to Erdoğan and Morsi, U.S. President Donald Trump, Russian President Vladimir Putin and Saudi Arabia's King Salman were on the poll.
Additionally, the poll ranked the murder of Saudi journalist Jamal Khashoggi as the most prominent event of 2018.
Khashoggi, a Saudi journalist and columnist for The Washington Post, went missing after entering the Saudi consulate in Istanbul on Oct. 2.
After offering numerous contradictory explanations regarding the fate of Khashoggi, Riyadh later said he had been killed and his body dismembered when negotiations to persuade him to return to Saudi Arabia failed.
Khashoggi's remains have not been found and Turkey has repeatedly asked Saudi Arabia where they are. Last month, Turkish police searched a remote villa in a coastal area southeast of Istanbul as part of the investigation.
Saudi Arabia's public prosecutor's office said last month it is seeking the death penalty for five individuals, and that 11 of 21 suspects have been indicted and will be referred to court in Saudi Arabia.
Turkish Foreign Minister Mevlut Cavusoglu said last week Ankara was working with other countries to take the investigation into Khashoggi's killing to the United Nations.
#
Turkish President Recep Tayyip Erdoğan
4 yıl önce