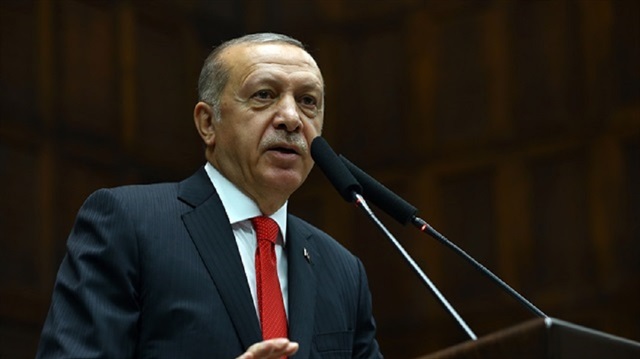 Recep Tayyip Erdoğan has taken the presidential oath of office to become the Republic of Turkey's first president under its new governmental system.
Erdogan took the oath on Monday in the capital Ankara, at the Grand National Assembly, chaired by Acting Parliament Speaker Durmus Yilmaz.
Erdogan's re-election at the June 24 polls marked Turkey's transition to an executive presidential system of government, doing away with the prime minister's post, among other changes.
Erdoğan won an absolute majority in the presidential election with 52.5 percent of the vote, according to Turkey's Supreme Election Council (YSK).
Speaking to journalists after the ceremony, Erdoğan said: "Everything was good in front of the nation, I hope it will be better in the future."
Lawmakers from the ruling Justice and Development (AK) Party and Nationalist Movement Party (MHP) stood up, as is customary, during Erdogan's swearing-in, while opposition Republican People's Party (CHP), Peoples' Democratic Party (HDP) and Good (IYI) Party lawmakers did not.
Also, CHP leader Kemal Kilicdaroglu did not attend the ceremony.
Erdoğan is due to announce his new Cabinet under Turkey's presidential system at 9.30 p.m. (GMT1830).
- Road to taking a new presidency
With roots in the Black Sea province of Rize, Recep Tayyip Erdoğan was born in Istanbul on Feb. 26, 1954.
In 1981, he earned his bachelor's degree from Marmara University's Faculty of Economics and Administrative Sciences.
In 1985, he was elected the Istanbul provincial head of the Welfare Party, founded in 1983, and that same year he became a member of the party's Central Executive Board.
In the local elections of March 1994, Erdogan was elected mayor of Metropolitan İstanbul.
In 2001, Erdoğan established the Justice and Development Party (AK Party) with his colleagues and was elected the party's founding general chair by its Council of Founders.
In the November 2002 general elections, the AK Party became Turkey's sole ruling party with a two-thirds majority in parliament.
Taking the prime minister's office in March 2003, Erdoğan implemented a number of reforms of crucial importance, such as the removal of six zeros from Turkey's currency, restoring stature to the Turkish lira, and a considerable increase in the national income per capita.
In addition to his fruitful initiatives -- hailed as a turning point in the country's history -- in its bid to join the EU, Erdoğan has taken significant steps towards resolving the Cyprus problem and developing better relations with many countries through his active foreign policy and busy series of visits and contacts.
Erdoğan, as AK Party chair, won a great victory in the July 2007 general elections, and established Turkey's 60th government by winning 46.6 percent of the vote as well as a vote of confidence.
In the June 2011 general elections, Erdoğan, winning 49 percent of the vote, emerged triumphant and established the 61st government.
Erdoğan made history in August 2014 by becoming the first president of the Republic of Turkey elected by popular vote.
Following the approval of constitutional changes in an April 2017 referendum allowing the president to retain his/her party membership, that May Erdoğan was restored as AK Party chairman by a vote at its third Extraordinary Congress.
This year, in the elections held on June 24, Erdoğan won an absolute majority in the presidential polls with 52.5 percent of the vote.
As Turkey officially shifted into a presidential government system following Erdoğan's victory in the elections, he is Turkey's first leader under the presidential system.