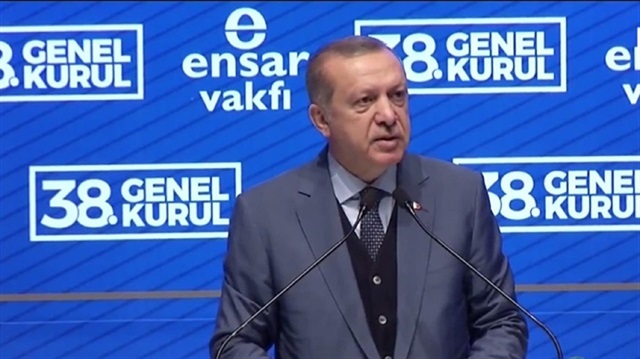 ​​Turkish President Recep Tayyip Erdoğan
Turkish President Recep Tayyip Erdoğan delivered a speech at Ensar Foundation's General Assembly, held at the Istanbul Congress Center.
President Erdoğan said, "I would like to express my gratitude toward all who have contributed to our foundation since its establishment.
"Our prayers are for all those who made efforts for our country. Our prayers are for the liberation of Muslims suffering in all corners of the world. Our prayers are for the Muslim world to get our of this pit of unrest. We have been the country's ruling party for the last 14 years. Yet we continue to have problems concerning our social and cultural power. Services provided through foundations, associations and parties are volunteer work. They require love. Before anything, educating people requires faith, commitment, patience and continuity."
They were not the youth of Gezi Park
"Our youth also took immediate action on July 15, and they rescued the venues that were occupied by repelling the coup plotters. They were in the forefront. They embarrassed those who said 'Do not to expect any favor from the youth. Those who came there that night [on July 15, 2016] were not the youth of Gezi Park. We should comprehend this."
We will provide our young people with an opportunity
"We demonstrated the confidence we have in our youth by lowering the age of candidacy. Now, we will work harder. Our youth will show how to subject this country to change. I declare that we will provide an opportunity to our youth. I believe our youth will improve themselves in the best way in all areas. Thus, Ensar Foundation and similar NGOs should be competing against each other to raise a generation with knowledge of science, wisdom and morals."
6 years ago