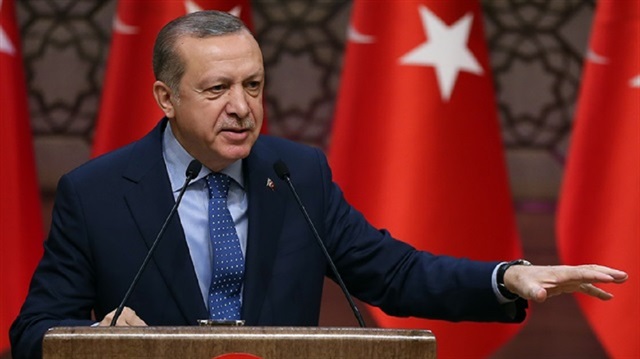 Turkish President Recep Tayyip Erdoğan said on Tuesday that Turkey will continue its Euphrates Shield operation in Syria's Afrin and Manbij.
Speaking during a parliamentary address to his ruling Justice and Development (AK) Party, Erdoğan said Turkey's military will continue its operation in Syria's Afrin and Manbij regions.
"The time has come to completely destroy the separatist organization's project aiming to create a Syrian terror corridor. We will complete the step we took during the Euphrates Shield Operation by continuing in Afrin and Manbij," Erdoğan said.
"We're both targeting the terror organizations that have been set on us and asserting our claims on the field and on the table," continued Erdoğan.
"We will complete this process by securing all our borders," he added, referring to a possible Afrin operation.
Any Afrin operation would follow on Turkey's successful seven-month Operation Euphrates Shield, which ended last March.
In the wide-ranging Euphrates Shield Operation launched in August 2016, the Free Syrian Army -- with the support of the Turkish army -- had cleared 2,000 square kilometers (772 square miles) of land along the Turkish-Syrian border of terrorist elements.
Jerusalem decision
"Jerusalem was one of the most important issues since our last meeting. We worked quickly after the diplomatic effort we launched immediately following the U.S. decision. It led to the gathering of the Muslim world around a cause in a forceful stance. There are countries who act hesitantly, we know who they are. But the general outlook is encouraging," said Erdoğan with regards to the U.S. Jerusalem move and its aftermath.
Foreign Policy
The president additionally addressed his visits to Africa and France to boost bilateral cooperation and trade.
"Our year-end visits to Africa and France are an example of our versatile politics. In the past, Turkey was forced to follow a dependent and one-directional policy. We launched an expansion project that spreads across the globe. We carried out intensive efforts in order to mend our ties in the Middle East to great results. We repelled the instability in Syria and Iraq that targeted us. No one can deny that it was strongly embraced in this region," he said.
US' Atilla case 'a new coup attempt'
Turning to the recent U.S. court conviction of Turkish banker Hakan Atilla, Erdoğan reiterated that the case was another coup attempt against Turkey.
"The people who were unsuccessful in the July 15 [2016] coup attempt in our country are seeking out new coup attempts," he warned, saying the Atilla case was a "political" coup.
Last Wednesday, a New York jury found Atilla, a former deputy CEO of Turkey's public lender Halkbank, guilty on five counts related to conspiracy and bank fraud -- including alleged Iran sanctions violations -- but acquitted him of a money laundering charge.
Turkey has criticized the conviction as a political conspiracy lacking any real evidence and pushed by members and sympathizers of FETÖ, the group behind the 2016 defeated coup.
The Fetullah Terrorist Organization (FETÖ) and its U.S.-based leader Fetullah Gulen orchestrated the defeated coup on July 15, 2016, which left 250 people martyred and nearly 2,200 injured.
FETÖ is behind a long-running campaign to overthrow the state through the infiltration of Turkish institutions, particularly the military, police, and judiciary, as well as having a large network of influence and intimidation abroad.
Erdogan also praised "the firm stand" of the people of eastern Turkey during northern Iraq's Kurdish Regional Government (KRG)'s illegitimate referendum last September.
The illegal poll was condemned by the international community.
The PKK -- listed as a terrorist organization by Turkey, the U.S. and the EU -- resumed its armed campaign against Turkey in July 2015.
Since then, it has been responsible for the deaths of more than 1,200 Turkish security personnel and civilians, including a number of women and children.