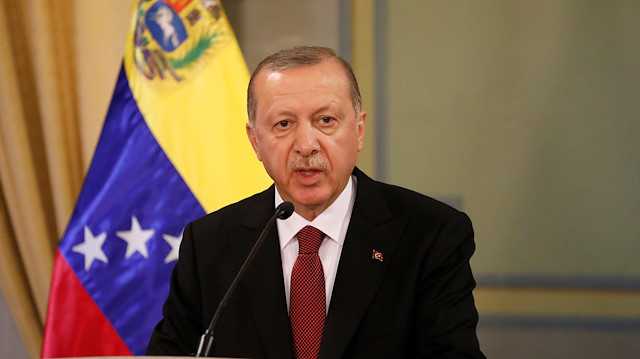 "Turkey will continue to enhance bilateral and multilateral ties with Latin American and the Caribbean countries," Turkish President Recep Tayyip Erdoğan said on Tuesday at a press conference.
Erdoğan also evaluated the G20 summit and said, "We emphasized the importance we attach to the fight against terrorism at the G20 summit and underlined our sincerity regarding the issue."
Erdogan's remarks came after concluding his visits to Argentina, Paraguay and Venezuela.
He said the leaders discussed global trade, infrastructural investments, modern tax system, new risks and vulnerabilities in the financial system, as well as the fight against terrorism during G20 Leaders' Summit in the Argentine capital Buenos Aires.
Erdogan said that following the G20 meeting, he was honored to pay Turkey's first presidential visit to Paraguay and Venezuela.
"I believe that we will more clearly see the positive effects of our meetings on our relations with Paraguay and Venezuela in the upcoming period," he added.
Jamal Khashoggi murder discussed at bilateral meetings
"During our bilateral meetings, the Jamal Khashoggi issue frequently came to the agenda," Erdogan said.
Khashoggi, a Saudi journalist and columnist for The Washington Post, went missing after entering the Saudi Consulate in Istanbul on Oct. 2.
The Saudi government changed its story on the murder, first denying it took place, then suggesting it was accidental and finally referring to it as a rogue operation.