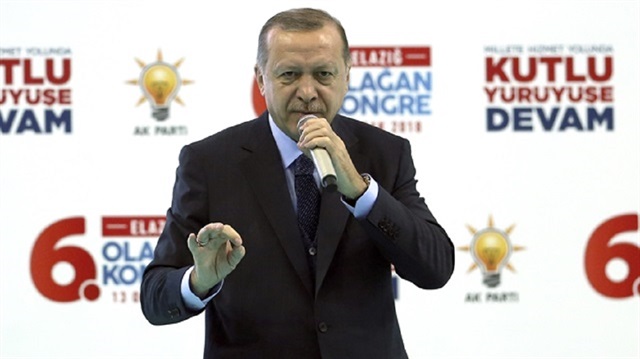 Turkish President Tayyip Erdoğan said on Saturday that Turkey's military operation in northern Syria's Idlib province will crush terrorist Kurdistan Workers' Party (PKK)'s Syrian affiliate, the PYD, in the border region of Afrin.
"With the Euphrates Shield operation we cut the terror corridor right in the middle. We hit them one night suddenly. With the İdlib operation, we are collapsing the western wing," Erdoğan said, referring to Afrin.
Turkish troops entered Idlib three months ago after an agreement with Russia and Iran for the three countries to try to reduce fighting between pro-Assad regime forces and opposition fighters in the largest remaining opposition-held part of Syria.
In the wide-ranging Euphrates Shield Operation launched in August 2016, the Free Syrian Army -- with the support of the Turkish army -- had cleared 2,000 square kilometers (772 square miles) of land along the Turkish-Syrian border of terrorist elements.
"In Manbij, if they break the promises, we will take the matter in our own hands until there are no terrorists left. They will see what we'll do in about a week," Erdoğan said.
Erdoğan criticised the United States for arming PKK/PYD terrorists, which are occupying Raqqa and other parts of Syria.
"The U.S. sent 4,900 trucks of weapons in Syria. We know this. This is not what allies do," Erdoğan said. "We know they sent 2,000 planes full of weapons."
The PKK is listed as a terrorist organization by Turkey, the European Union and the United States. The PKK has been conducting armed violence in the southeastern part of Turkey since 1984. More than 40,000 people, mostly civilians, have been killed in the three-decade long conflict.