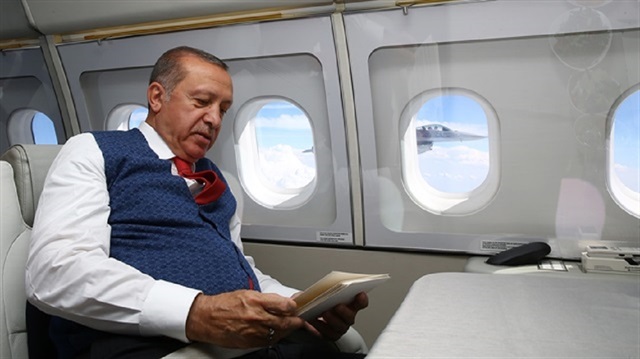 President Recep Tayyip Erdoğan announced on Thursday that a tripartite mechanism between Turkey, Russia and Iran had been discussed, and that the Turkish Armed Forces (TAF) would be positioned within Idlib.
"President Putin was recently in Turkey. We discussed how we could make a tripartite mechanism [in Syria] work. We have a roadmap regarding this issue. In the upcoming days, the relevant departments will take the necessary steps. A division of duties has been made regarding the de-escalation zones. Steps will be taken to ensure the safety and security of the residents," said Turkish President Recep Tayyip Erdoğan on his return flight from a one-day trip to Iran.
The same steps that we took in Jarabulus and Rai that ensured 100,000 people could return will be taken in Idlib. The TAF will be positioned within the borders of Idlib, and the Russian armed forces will be positioned outside its borders," he added.
Erdoğan also touched on the illegal Kurdistan Regional Government (KRG) referendum.
"In the end, Barzani and his accomplices will give up. What they did [referendum] has no legal ground. It's contrary to international law. It has to pass through the federal parliament, and it is certain that it will not be approved. The Iraqi central government announced this. The Iraqi Constitutional Court also suspended the referendum decision and ruled that it had to be stopped," he said.
Erdoğan also said that the relevant ministers and departments were continuing talks regarding the KRG taking steps back and added that there had been no signs of northern Iraq softening.
The president expressed that Turkey had not made an attempt to contact the KRG, and said "it would be wrong to make such contact."
Erdoğan said that for Turkey to be satisfied, Barzani had to retract the referendum completely.
"The referendum must be cancelled. Not that it has any validity. Look at Kosovo. Despite being recognized by 114 countries, it still does not have a state. The first country to recognize Kosovo was the U.S., followed by Turkey within a matter of seconds. The work of the KRG has no support except from Israel. So they must take steps to end this themselves. Otherwise, within a certain timeframe, we will take countermeasures," Erdoğan said.
The president criticized the inclusion of the oil-rich city of Kirkuk in the referendum, saying that Kurds had no legitimacy there.
"Kirkuk is very sensitive. The KRG wanted to establish dominance over Kirkuk. But those are special areas so nobody can claim ownership. Turkmens live there, and when we look at Kirkuk's history, they have a very serious right of ownership. We should protect those who live there. We know that Kurds have no legitimacy there," Erdoğan said.
"At the moment, they are occupying the area. They have always used the strength they have to try to enter Kirkuk. The central government is going to take the necessary steps regarding Kirkuk. Our communication with Iraq and Iran is ongoing. The necessary steps will be taken. We will take the necessary steps for Kirkuk, and also for Mosul. We will support those who live there," he added.
Iran and Turkey have already threatened to join Baghdad in imposing economic sanctions on the KRG and have launched joint military exercises with Iraqi troops on their borders after northern Iraq's independence referendum last month.
Turkey, Iran and Iraq will jointly decide on closing the flow of oil from northern Iraq, Erdoğan added.