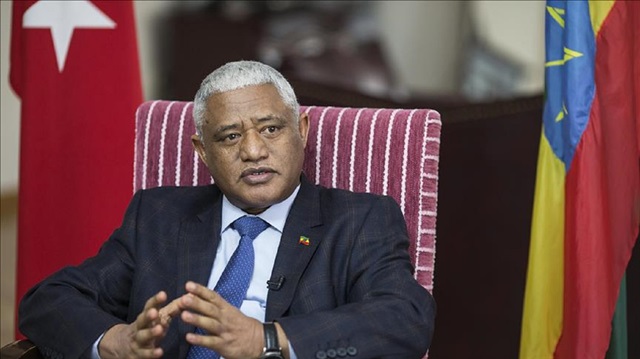 Relations between Turkey and Ethiopia can be described as excellent, the envoy from the East African country said on Tuesday.
Ayalew Gobezie, Ethiopia's ambassador to Turkey, told Anadolu Agency that the Turkish government "does not exploit Africa but supports the African people".
In an exclusive interview in the Turkish capital Ankara, Gobezie thanked President Recep Tayyip Erdogan and the Turkish government for supporting stronger ties between the two countries.
"The Turkish government has principles for its diplomatic relations: win-win, not to exploit but to support the African people and African development. We also share this perspective," he said.
Gobezie underlined the deep roots of ties between Turkey and Ethiopia, which go all the way back to the Ottoman Empire.
"In 1912 the first Ottoman-Turkish Consulate in Ethiopia was opened in the town of Harar," Gobezie said, adding that the Republic of Turkey's first embassy in Sub-Saharan Africa opened in 1926 -- just three years after Turkey's foundation -- also in Ethiopia.
"The Ethiopian government opened its embassy in Ankara in 1933. There is a long-standing relationship," he explained.
"Turkey and Ethiopia have had bilateral relations more than 100 years. Today the relations between our two countries can be described as excellent, both politically and economically."
Trade with Turkey
Turkey and Ethiopia are key economic partners in many areas. Trade cooperation between the two countries is on the rise. Turkish firms continue to invest in various sectors in the country.
"A Turkish company is building a 386-kilometer [250 mile] railway with a $1.7 billion budget, which will be hopefully completed in the next two years," he said.
"In addition, Turkish companies' investments are worth a total of nearly $3 billion. More than 100 Turkish companies are doing business here, and they have created more than 10,000 jobs," Gobezie said.
"Our trade volume is also growing and has now reached almost $450 million. Our aim to boost it to $1 billion in the next five years," he added.
"There is an integrated approach by the government of Turkey and Turkish businessmen to bring development to Ethiopia. President Erdogan has visited Ethiopia three times since 2005. His last visit was in 2015. He is currently in Africa again, visiting Sudan, Chad and Tunisia," said the ambassador.
"We want to improve our economic diplomacy through companies and businesspeople. We invite Turkish investors and entrepreneurs to come and invest in Ethiopia. We have industry parks ready for them. It's easy and profitable to do business in our country."
They can invest in the manufacturing sector, for example -- textile, garment and construction are the leading sectors," Gobezie said.
- Transferring former terror group schools
Gobezie also addressed the issue of schools previously run by the Fetullah Terrorist Organization (FETO), the group behind last year's defeated coup in Turkey.
Turkey established the Maarif Foundation last year to take over the administration of overseas schools linked to FETO. It also establishes schools and education centers abroad.
To date around 30 African countries have handed over FETO schools to Maarif or closed them at Ankara's request.
"Governments are working to hand over those schools in a legal process," said Gobezie.
"Our government officially promised to transfer FETO schools to Turkey's Maarif Foundation. It is in process, I believe it will be done in 2018. We are also as an embassy pushing to solve this issue."
FETO and its U.S.-based leader Fetullah Gulen orchestrated the defeated coup of July 15, 2016, which left 250 people martyred and nearly 2,200 injured.
Ankara accuses FETO of being behind a long-running campaign to overthrow the state through the infiltration of Turkish institutions, particularly the military, police and judiciary.
FETO also has a considerable presence outside Turkey, including private educational institutions that serve as a revenue stream for the terrorist group.
Gobezie also praised Erdogan and Turkey for their leading role in the recent UN vote rejecting the U.S. recognizing Jerusalem as Israel's capital.
"These kinds of conflicts should be solved with peaceful resolutions. We are part of the 128 countries who voted favor of the Jerusalem resolution at the UN," he said.
-Turkish-funded restoration
Gobezie also said the local community was pleased with projects in Ethiopia by Turkey's state development aid agency, the Turkish Cooperation and Coordination Agency (TIKA).
"Three years ago TIKA launched a restoration project on the tomb of King Najashi and the Al-Najashi Mosque, which is the first mosque in the country. The mosque and the tomb are located 800 kilometers from the capital," he said.
"TIKA's other restoration project is on the old Ottoman Consulate building in the walled city of Harar in eastern Ethiopia.
"The agency also helps and supports local authorities to restore almost 70 mosques in Harar Jugol, the fortified historic town which is registered by UNESCO. Harar is said to be the fourth-holiest city of Islam, with 82 mosques, three of them dating from the 10th century."
TIKA opened its first office in Africa in Ethiopia in 2005.
Nile dam, Anadolu as news source
Six years ago Ethiopia launched a $4.8 billion mega hydroelectric dam project on the Nile near its border with Sudan.
"We want to solve this dilemma peacefully and technically, engineers should involve the issue. Ethiopia would [like to] continue to cooperate with Sudan and Egypt.
"We don't want to hurt our Egyptian brothers. But we want them to understand us as well," he said.
The ambassador also praised Anadolu Agency.
"Anadolu Agency brings us true news, I always follow you. It's the main source for us for African news, and even for world news," he said.
We benefit from Anadolu. Your office in our capital Addis Ababa helps improve our close relationship."
Anadolu Agency plans to open new offices in Nigeria and Sudan in 2018, and is also scheduled to reopen its office in Senegal.
Ethiopia, the capital of African Union, is located in East Africa, with a population of 100 million. It is one of the world's fastest-growing economies, with growth of 8.5 percent this year, according to the IMF.