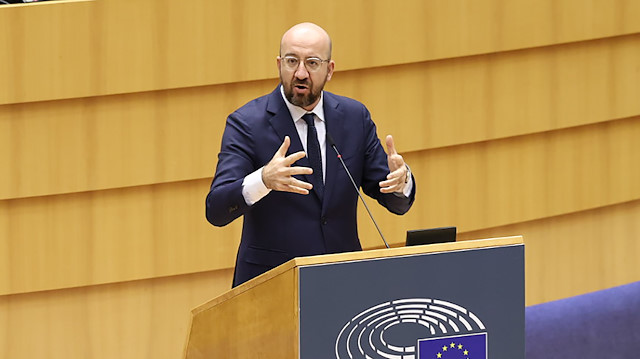 The European Council president on Friday called on Russian President Vladimir Putin to release opposition figure Alexei Navalny.
"In my call with president Putin today I reiterated the EU is united in its condemnation of Alexey Navalny's detention and calls for his immediate release," Charles Michel wrote on Twitter following the phone call.
According to the EU's readout of the phone conversation, Michel told Putin that the EU is united in its call on Russia to "swiftly release Mr Navalny and proceed with the investigation into the assassination attempt on him, in full transparency and without further delay."
He also informed the Russian president about his intention for a strategic debate on EU-Russia relations in the European Council meeting in March.
Navalny, 44, who received treatment in Germany after alleged poisoning, was arrested in the capital Moscow upon his return Sunday evening.
A fierce critic of Russian President Vladimir Putin, Navalny fell sick last August on a flight to Moscow. After an emergency landing in the Siberian city of Omsk, he spent two days in a Russian hospital before being sent to Berlin for treatment.
After tests in several laboratories, German officials said Navalny was poisoned with the nerve agent Novichok, which was also used according to the UK government in a 2018 attack on former Russian spy Sergei Skripal and his daughter in the British town of Salisbury.
Russian authorities deny any involvement in the case and contend that chemical weapons have neither been developed nor produced by Russia since the last chemical round was destroyed in 2017, as verified and certified by the Organization for the Prohibition of Chemical Weapons.