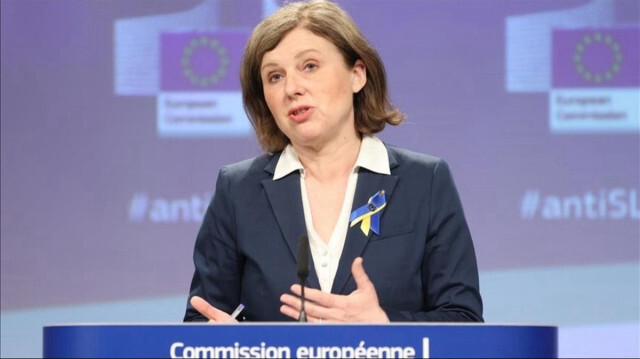 EU Commissioner Vera Jourova warned on Tuesday that Russia might interfere in next year's EU elections by spreading disinformation on online platforms.
Jourova, the vice president of the EU executive body in charge of values and transparency, spoke at a news conference, presenting the first report on the actions taken by leading tech companies under the EU's Code of Practice on Disinformation.
"The Kremlin and others will be active before our European elections," Jourova warned.
She asked major online platforms to be particularly vigilant of the "risk of disinformation" at upcoming national elections and the European parliamentary elections to be held on June 6-9, 2024.
"The Russian state has engaged in the war of ideas to pollute our information space," Jourova further said.
She explained that Russia is applying a tactic of "half-truths and lies to create a false image that democracy is no better than autocracy."
"Today, this is a multi-million euro business of mass manipulation, aimed both internally at the Russians, as well as Europeans and the rest of the world," Jourova asserted.
According to Google's reports, YouTube terminated over 400 channels involved in "coordinated influence operations linked to the Russian state-sponsored Internet Research Agency" between January and April, Jourova said.
Google also removed ads from almost 100 sites "linked to state-funded propaganda sites," while Microsoft's Bing search "either promoted information or downgraded questionable information in relation to almost 800,000 search queries related to the crisis" in Ukraine, she added.
Tiktok's fact-checking service also analyzed 832 videos related to the war and removed 211 of them because of disinformation.
These contents mostly justified "Russia's right to invade Ukraine" as "Ukrainians are Nazis" and they don't have the right to exist as an independent county," or spread narratives against Ukrainian refugees or "how the EU is shooting itself" by sanctions against Russia, Jourova revealed.
The EU's Code of Practice on Disinformation has currently 44 signatories, including Facebook, YouTube, LinkedIn, and Google.
2 months ago