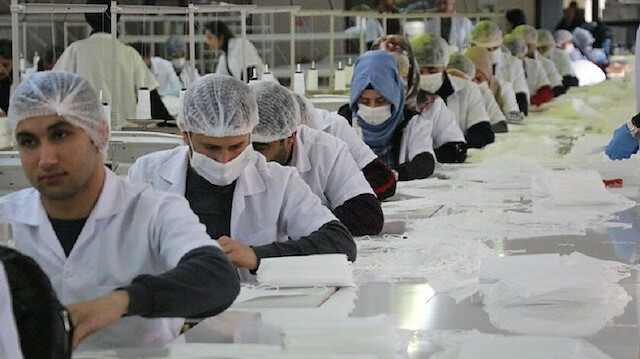 ​A textile firm located in Turkey's southeastern Batman province receives 1 billion face masks order
A textile firm located in southeastern Turkey has received an order of approximately 1 billion face masks from European countries, a protective product which has been in high demand around the world since the beginning of the coronavirus outbreak.
"On the one hand, our company meets the mask demands of the Turkish Health Ministry; on the other hand, we have received 1 billion mask orders from a European firm," Cengiz Kaptanoğlu, an official from the textile company said.
The company is currently manufacturing 10 million face masks each week.
"We are continuing our efforts to complete the orders of 1 billion masks that we received from countries such as Germany and Spain as soon as possible," Kaptanoğlu added.
The city of Jena in eastern Germany has decided to make people wear face masks when shopping or travelling by public transport, stepping up efforts to slow the spread of the coronavirus and becoming the first city in the country to take the step.
The number of confirmed coronavirus cases worldwide has surpassed 787,000, while the death toll is above 37,800, and more than 166,200 people have recovered so far.
The number of confirmed cases of the coronavirus in Germany has risen to 61,913 and 583 people have died of the disease, statistics from the Robert Koch Institute (RKI) for infectious diseases showed on Tuesday.
4 years ago