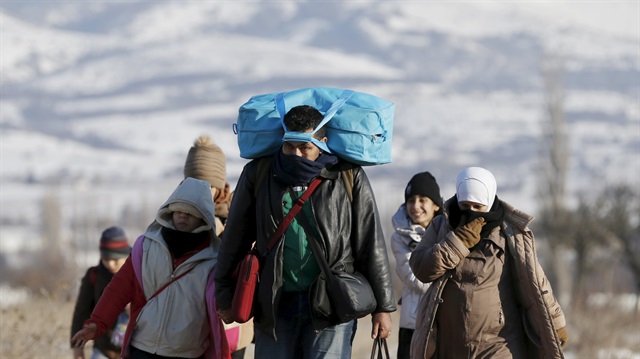 German Foreign Minister Frank-Walter Steinmeier said that Europe needs Turkey to tangibly reduce the exodus of refugees and migrants from the Middle East and beyond.
Turkey is the key country capable of stopping the influx one way or another, he said. Steinmeier was speaking about his expectations for the upcoming meeting of the Turkey-Germany High-Level Cooperation Council.
Prime Minister Ahmet Davutoğlu will pay a state visit to Germany for the council meeting on January 22. The Kurdish issue, Turkey's EU membership and the migrant crisis are expected to be among the crucial items, which will be put on the table during the discussions.
German officials split over Turkey's EU membership
German Foreign Minister conceded that Turkey has done the first homework on the Joint Action Plan for the EU membership, whereas the EU has achieved no progress on its part. "Turkey has taken first steps on that path. A visa requirement for Syrian citizens has been introduced."
Turkey should help refugees to stand on their own, according to Steinmer. The German minister suggests Turkish officials should provide the best possible business conditions to Syrian refugees for them to begin a new life in Turkey.
The German minister also accepts the EU is defective in activating the Action Plan that had been agreed upon. Steinmeier said there are some EU countries who do not approve of providing an initial 3 billion euro of additional resources to Turkey. "At least, there is one member state who refused this committment."
It is obvious that Turkey will hold its own responsibilities if EU carries out its responsibilities, he added.
However, German Chancellor Angela Merkel says that Turkey still has a long way to go to integrate into the European Union. "The negotiations are open-ended for both sides. We have opened a new chapter in this process but there is still a long way ahead," she said.
Turkey and the EU have agreed on an action plan, committing the EU to back Turkey financially in its efforts to house Syrian refugees. Turkey has sheltered 2.5 million Syrian refugees, 900,000 of whom are children who need education. The government has reportedly spent more than $7.4 bn to cover their needs. The EU has committed to provide Turkey with €3bn in January to help ease the refugees' plight.
Syrians arriving in Turkey from a third country need to apply for a visa to enter Turkish territory as of January 8. The goverment's visa move came after EU and Turkish authorities reached an agreement in November to stem the flow of migrants. The decision has been stemmed from long discussion among Prime Minister Ahmet Davutoğlu and some EU leaders, including German Chancellor Angela Merkel.
Turkey has long expected to resume negotiations on its EU membership. Turkey's EU negotiaions started in 2005 and only 13 chapters have been opened. The Minister of European Affairs Minister Volkan Bozktr says the 28-block nation has agreed to open a new chapter in the stalled talks.
#
German Foreign Minister Frank-Walter Steinmeie
#
the Turkey-Germany High-Level Cooperation Council.
8 yıl önce