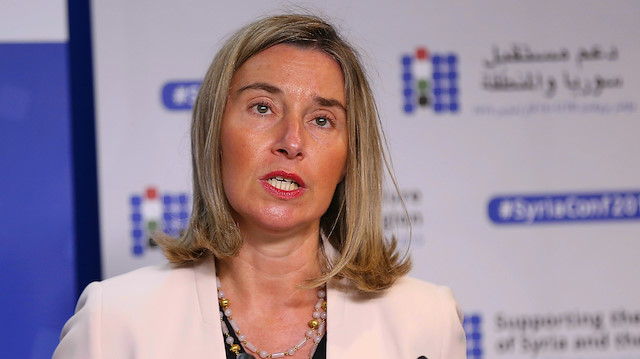 The EU will transfer €1.5 billion for helping Syrian refugees in Turkey, under a 2016 agreement with Ankara, said Federica Mogherini, the EU foreign policy chief, on Thursday.
"I would like to confirm the EU contribution of €1.5 billion to the second tranche of the facility for refugees in Turkey," Mogherini told the opening ceremony of a conference on Syria organized by the EU and the UN in Brussels.
In March 2016, EU and Turkey reached an agreement to take stricter measures against human smugglers and discourage irregular migration through the Aegean Sea, and improve the conditions of Syrian refugees in Turkey, with the EU giving a €6 billion ($6.8 billion) aid package to help Turkey care for millions of refugees hosted in the country.
Turkey has complained that the EU failed to deliver the promised aid in a timely manner.
Mogherini also underlined that the solution in Syria is not military, but political.
The EU and its member states together have invested around €17 billion for Syrian refugees and their host communities since the beginning of the war, she said, adding that the bloc will continue "to honor its commitments" for the Syria crisis and the Syrian people.
"Therefore, I am proud today to announce that the EU is confirming its pledge of €560 million for 2019, and it is committing to the same amount for 2020, and we have the ambition to maintain the same levels for 2021 giving continuity to our support."
She said that the aid will support the Syrian population inside Syria and in the neighboring countries, in particular in Jordan and Lebanon.
"But it will also support host communities and the long-term economic recovery needed by the host countries," Mogherini added.
Turkey hosts more than 3.5 million Syrian refugees, more than any other country in the world.
Syria has been locked in a vicious civil war since early 2011, when the Assad regime cracked down on pro-democracy protests.
Since then, hundreds of thousands of people have been killed and more than 10 million others displaced, according to UN officials.